Greece › Best Beaches
by Santorini Dave • Updated: February 11, 2023
See Also
• Where to Stay in Santorini
• Where to Stay in Mykonos
• Where to Stay in Naxos
• Where to Stay in Paros
• Where to Stay in Milos
• Where to Stay in Crete
• Where to Stay in Athens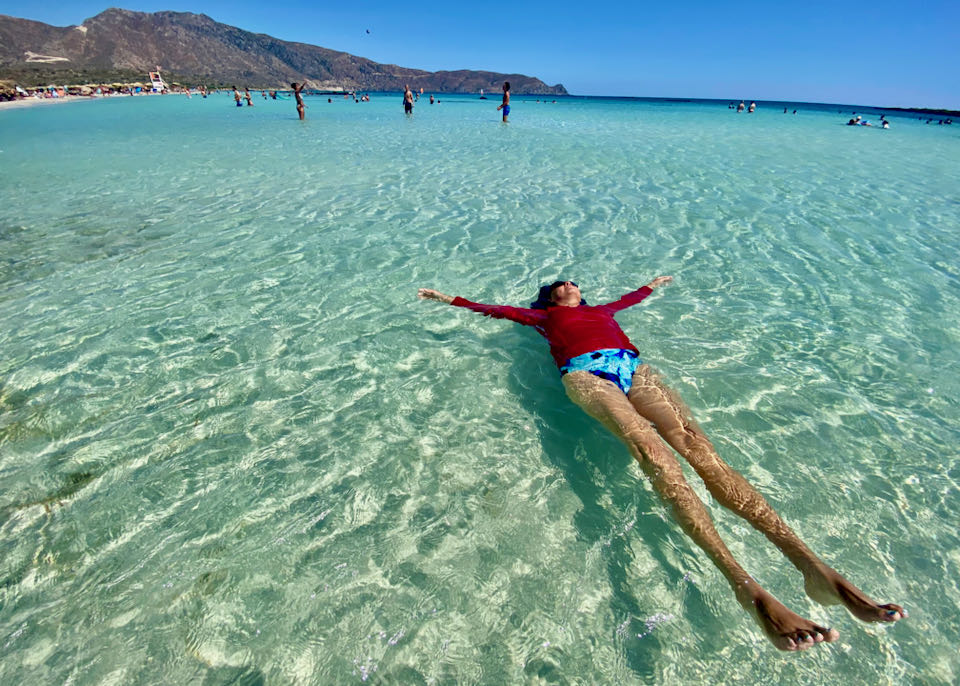 My favorite beach in Greece is Elafonisi Beach in southern Crete. A magical lagoon-like setting with great sand and a wonderful swimming area. Mykonos has the deserved reputation as a beach paradise with a vibrant nightlife. While Naxos is great for beach lovers looking for a quieter, more relaxed island. Santorini is the most remarkable island in Greece but not because of its beaches. Go to Santorini for its views, tours, hikes, food, and wine.
Greek Beaches

Greece has the best beaches in Europe.
The Greek islands with the best beaches are Crete, Naxos, Paros, Ios, Milos, Mykonos, and Rhodes. But almost every island has at least a few great swimming beaches.
Naxos has the best beaches (but little nightlife). Mykonos has the best beach clubs (and nightlife). For a mix of the two – great beaches and some nightlife – Paros is perfect.
Santorini has amazing luxury hotels, though they're on the caldera cliff not on the beach.
The best beach in Greece is Elafonisi Beach on Crete.
The best beach in Greece for families is St. Georges Beach on Naxos.
The best beach in Greece for partying is Paradise Beach on Mykonos.
The best beach in Greece for quiet and solitude is Plaka Beach on Naxos.
The best beaches in Mainland Greece are found in Halkidiki.
The best beach hotels in Greece for an idyllic beach holiday: Ios Palace Hotel & Spa in Ios • Iria Beach Hotel in Naxos • Branco Mykonos in Mykonos • Mykonos Blanc in Mykonos
Mykonos has the most hotels right on the beach.
To reserve beach beds on the most popular beaches and beach clubs in Mykonos, Santorini, Ios, Naxos, and Paros you can use beachdibs.com. Though most of the time it's fine to just show up and find something available.
When To Visit Greece: Greek beaches are at their best from late May to early October when there's great weather and the sea water is warm for swimming.
See Also

The 19 Best Beaches in Greece

1. Elafonisi, Crete


The best beach in Greece: Elafonisi on the south coast of Crete. There isn't much else nearby besides a few small hotels so most people do a day trip from Chania or Rethymno. Recommended Hotels near Elafonisi: Elafonisi Resort by Kalomirakis Family (midrange) • Xasteria (midrange) • The wonderful town of Paleochora is a one hour boat ride from Elafonisi. Recommended Paleochora Hotels: Caravella Luxury Apartments (midrange) • Aris Hotel (budget)

2. Plaka Beach, Naxos


Naxos is loaded with great beaches and if you're looking for an island with a large variety of beaches it should be at the top of your list. Naxos Town is wonderfully charming and St George beach (a short walk away) is a great town beach. But down the southwest coast there are many others that are even better: Agia Anna, Agios Prokopios, Mikri Vigla, Pyrgaki – and perhaps the best of the lot, Plaka Beach. I recommend staying in Naxos Town and taking the frequent buses to the beaches down the coast. Recommended Beach Hotels in Plaka: Medusa Resort (midrange) • Stella Naxos Island (midrange) • Recommended Hotels in Naxos Town: Nissaki Beach Hotel (luxury) • Korali Boutique Hotel (midrange) • Xenia Hotel (budget)

3. Platys Gialos, Mykonos


One of the best beaches on Mykonos and backed by hotels and restaurants. A fun mellow vibe through the day becomes a romantic/trendy vibe at night. Recommended Beach Hotels in Platys Gialos: Branco Mykonos (luxury, right on the beach) • Petasos Beach Resort & Spa (luxury) • Myconian Ambassador (luxury) • Petinos Beach Hotel (midrange)

4. Ornos Beach, Mykonos


The most family friendly beach on Mykonos. Great sand and calm relaxing water with a shallow slope. Kostantis restaurant serves incredible food right on the beach. It's 10 minutes by bus from Mykonos Town. Recommended Beach Hotels in Ornos: Kivotos Luxury Boutique Hotel (luxury – great for honeymoons) • Santa Marina Resort & Villas (luxury – great for families) • Mykonos Blanc (luxury – fantastic location on the beach)

5. Faragas Beach, Paros


Paros has many great beaches – some of them like Golden Beach, Pounda, and Piso Livadi can be a bit too popular. Faragas is located in the south (protected from the meltemi winds) and away from the main towns. I recommend staying in Parikia and making a day trip to the beaches on the east and south coast. Recommended Hotels in Parikia: Argonauta Hotel (midrange) • Captain Manolis (budget)

6. Sarakiniko, Milos


Is this a beach? Who knows, who cares. Mylos has many great little coves for swimming and sunning. Sarakiniko is one of the best spots to swim and relax. (Although the true highlight of Milos is a boat tour along the coast.) Recommended Milos Hotels: Melian Boutique Hotel and Spa (luxury) • Milos Breeze Boutique Hotel (luxury) • Eiriana Luxury Suites (boutique)

7. Mylopotas Beach, Ios


Wonderful sand and a quick drop-off for people who like to swim. Stay at either Mylopotas Beach or in the fun main town (Chora) up on the hill (lots of nightlife if you want it, easy to avoid if you don't). Recommended Hotels: Ios Palace Hotel & Spa (luxury, pictured above) • Levantes Boutique Hotel (midrange)

Myrtos beach on Kefalonia. Recommended Kefalonia Hotels: Myrtos Bay Apartments (midrange – great place but you do need a rental car) • Kefalonia Grand (the best hotel in Kefalonia)

9. Paleokastritsa, Corfu


Paleokastritsa is a fantasic series of bays and beaches on beautiful Corfu. Recommended Hotels: Akrotiri Beach Hotel (luxury – great views) • Zefiros Traditional Hotel (midrange – steps from beach) • Bella Venezia (luxury hotel in Corfu Town)

10. Stafylo Beach, Skopelos


Stafylo is one of the several great beaches on Skopelos. Recommended Hotel: Poseidon Hotel (midrange – easy walk to Stafylo Beach)

11. Koukounaries Beach, Skiathos


Koukounaries Beach on Skiathos. Absolutely beautiful. Two fantastic hotels are within walking distance of the beach: Skiathos Palace Hotel (midrange) • Mandraki Village Boutique Hotel (midrange)

12. St Paul's Bay, Rhodes


The beach is small but this is still one of my absolute favorites. It's great little swimming spot near the castle at Lindos. The east coast of Rhodes (where St Paul's is located) is protected from the wind and sprinkled with great beaches (including Faliraki and Lindos). Anything west of Rhodes Town will be very windy. I love staying in beautiful Rhodes Town and busing to the east coast beaches on short day trips. Recommended Hotels: Atrium Palace Thalasso Spa Resort And Villas (luxury – near Lindos) • Spirit Of The Knights Boutique Hotel (luxury – Rhodes Old Town)

13. Kamares Beach, Sifnos


Sifnos – a quiet island in the western Cyclades – has a handful of great beaches. Vathi and Platis Gialos may well be the best on the island but I love the quaint charm of Kamares. Backed by mountains and a small charming Greek village the beach feels like a throwback. The water is shallow and perfect for kids and there are loads of tavernas and hotels nearby. The ferry port is walking distance from the beach. Recommended Hotels near Kamares Beach: Delfini (midrange) • Nymfes Hotel (midrange)

14. Livadakia, Serifos


Fantasic beach with great swimming. Lowkey and affordable Coralli Seaside Resort (midrange) has a nice pool, bar, and restaurant. The port and tavernas of Livadia are a short walk away.

15. Matala Beach, Crete


A great little town. The cliff at the end of the beach is filled with caves that you can explore. Recommended Hotels: Nautilus (midrange apartment) • Matala View (budget)

16. Shipwreck Beach, Zakynthos


Accessible by boat on a day trip. Take one of the smaller operators out to the beach and you'll be able to explore some caves. The beach is always busy but the magical setting makes it all worthwhile. Recommended Beach Hotels: Porto Zante Villas And Spa (luxury, Tragaki) • Astir Palace Hotel (midrange, Laganas)

17. Vai Beach, Crete


The best beach in eastern Crete and backed by a unique palm forest (the only one in Europe). Vai is a good day trip from Sitia. Good Hotel in Sitia: Sitia Beach

18. Perissa Beach, Santorini


The nicest beach and sand on Santorini. Great restaurants and low-key bars are spread along the waterfront down to Perivolos Beach. A taxi-boat connects Perissa with Kamari Beach (the trip takes 10 minutes and is quite fun). Recommend Hotels in Perissa: Istoria Hotel (luxury) • Meltemi Village Hotel (midrange)

19. Athens Riviera, near Athens


The best beach near Athens and about an hour's trip by bus and 30 minutes by taxi from the city center. Best beach resorts near Athens: Four Seasons Astir Palace Hotel (5-star, pictured above) • Divani Apollon Palace & Thalasso (4-star)

What are the best beaches for kids in Greece?

Agios Georgios Beach on Naxos is wonderful for kids. It's a short walk from the island's wonderful main town and port.  A shallow shelf extends well out into the sea and the calm protected waters are perfect for children. Many places to eat and stay are in the immediate area. There are several other (quieter) beaches on Naxos that are also great for kids. As you move south away from the main town the beaches grow quieter and less developed – though almost all of them have at least 1 or 2 tavernas. The nearby islands of Paros and Antiparos have many kid-friendly beaches.

Read: The Best Islands in Greece for Families

What is the best beach for partying?

Paradise Beach on Mykonos is not for everyone. The category was Party Beach and this defines Paradise. Water sports, young people, sand, sun, and drinks wherever you look. Punda Beach on has an equally established reputation for partying.

What is the best beach for quiet and solitude (on a popular island)?

Plaka Beach in Naxos and Ambelas Beach in Paros are fantastic. There are quieter beaches on less popular islands, but considering Naxos and Paros are very popular islands both beaches are downright tranquil. There are enough restaurants and hotels in the area of the two beaches so you don't feel totally isolated. Visit outside of July and August and you could have either beach to yourself.

What is the best beach close to Athens?

The Athens Riviera is great for swimming and about 30-40 minutes from Athens. It can get busy on the weekend but if you're stuck in the heat of Athens you won't complain once you're here. Or stay at one of the great beach resorts on the Athens Riviera: Four Seasons Astir Palace or Divani Apollon Palace & Thalasso.

When is the best time to visit Greece?

Late May to Early October is the best time to visit Greece. July and August are the hottest and busiest months. June and September are nearly perfect with one small difference between them being that the sea is warmer in the fall while the countryside is greener in spring. Early May and Late October can still see warm weather and sunny days but you should be prepared for the possibility of rain and cloud – and pack a sweater for coolish nights. On the southern coast of Crete it's not unheard of to be swimming into the first weeks of November.

The Most Romantic: Santorini
The Best for College-Aged Partying: Ios
The Best for 20 to 30-Something Partying: Mykonos
The Best for Families: Naxos
The Best for Outdoor Activities and Historical Sites: Crete and Santorini
The Best for Quiet, Untouristy Beaches: Antiparos

When Is the Best Time to Visit the Greek Islands?

The Greek Islands have great beach weather from late May until early October – the weather is hot, the skies are blue, and there's very little rain. July and August are the hottest but also sees the largest crowds and the highest prices. By favorite time to visit is September and early October when the weather is still consistently hot and the sea is at its warmest. Swimming and sunbathing are possible in early May and late October but you are taking a bit of a risk if you visit at these times with the intention of hitting the beach – but they're great times if you're here to hike, sight-see, and wine and dine.
I Only Have 1 Week in Greece, Where Should I Go?

I would spend 4 days in Santorini and 3 days in one of the less touristy islands. Probably Naxos, Milos, or Folegandros. (Or if you wanted a few nights to party and dance then Mykonos or Paros.)

I Have 2 Weeks in Greece, Where Should I Go?

I would still spend 4 (or 5) days on Santorini. Then 3 days each on 3 of the following islands: Naxos (beaches, hikes, traditional villages), Paros (beaches, partying), Antiparos (beaches, tranquility), Mykonos (beaches, partying, beautiful port town), Folegandros (hikes, beaches, non-touristy island), and Milos (beaches, full-day boat tours, unique scenery).

As you can tell from the comments below, I get more questions on hotels than any other topic. From late June to early September islands are packed and hotels often full. Book early.

Book your hotel before your ferry – The large conventional ferries rarely sell out even in the peak summer season. Hotels, on the other hand, fill up weeks and months before the date. Buying ferry tickets just a few days in advance from your current location in Greece is usually always enough time to secure a basic economy ticket. Some people buy ferry tickets first and then can't find a hotel they like and have to compromise. Hotel first, then worry about the ferry.
Booking.com/Greece is the best website for finding hotels in Greece. It has the best selection and I love it because you can book and cancel rooms without any charges. This allows you to reserve multiple hotels, finalize your plans, then cancel the rooms you don't need.
As ferries arrive at an island port there will usually be owners of small hotels and private rooms there to greet passengers. If you don't have a hotel booked this can be an easy way to get a cheap room. The downside is that the rentals are usually located far out of the way (that's why they come to meet the ferries). But it sure beats sleeping on the beach.
When to book hotels in Greece? The popular islands get fully booked in the summer months. Try to book hotels at least 3 to 8 weeks in advance. In the last decade, Greece has gone from a popular summer vacation destination to a very very popular summer vacation destination. Every year it gets harder to find hotels by just showing up and hoping for the best.
The larger your group the farther in advance you should book. A single backpacker might able to find a hotel in Corfu with little notice. A family of 5 will have a very hard time if they haven't booked well in advance.
Flipkey.com is great for finding villas and house rentals on the Greek islands.
For many islands you don't need to book in advance for travel outside of July and August. When you arrive on the ferry there will likely be a handful of hotel owners waiting for you. This works well for single or couple backpackers. Not so well for families, groups, or luxury travelers looking for the best hotels.
Santorini – Book hotels well in advance for June to September
Athens – Book hotels well in advance for April to October
Mykonos, Rhodes, Corfu, Crete – Book hotels well in advance for late June until early September
Naxos, Paros, Milos, Lesvos, Samos, Chios, Kefalonia – Book hotels well in advance for July and August

I hope that helps.
Good luck,
Dave
Read More