Greece › Mykonos › Tours
by Santorini Dave • Updated: January 14, 2023
See Also
• Best Hotels in Mykonos
• Best Towns in Mykonos
• Best Beaches in Mykonos
• Maps of Mykonos
• Mykonos Ferry Port
The 11 Best Tours & Things To Do in Mykonos


This is an absolutely wonderful Greek cooking class: fun, informative, great food. And the wine flows freely. It lasts a little less than 6 hours and starts at 10am or 4pm with free transfer from your hotel or the cruise port. Highly recommended. If you only do one organized activity in Mykonos, make it this one. (It's rare for kids to do the class but when they do they have a blast.)


Awesome Mykonos boat tour with swimming, food, and unlimited drinks. Lots of swimming and snorkeling. Good fun.


After a 45-minute boat ride to Delos, explore the ancient island with a fully accredited guide. Delos (a UNESCO World Heritage Site) is one of the best-preserved and most important historical sites in Greece and the best day trip from Mykonos. If you're interested in visiting Delos, we recommend taking a guided tour; there are loads of ruins, but few signs, so it can be difficult to know what you're looking at without a guide.


Tour the ancient island of Delos (entrance fee not included) then swim, snorkel, and sunbathe from the yacht and along the coast of the uninhabited island of Rhenia. BBQ meal and unlimited drinks included.


A super fun way to spend a day out on the water. Lots to eat and drink (and the food is surprisingly good quality). Lie on the deck, swim, snorkel, or sight-see as you make your way around the Mykonos coastline or to the island of Rhenia (depending on win, weather, and guest preference). This one is a little expensive, but worth it for the small group size and luxury service.

Note: Both of the previous boat tours get fully booked from late June to early September. If that's the case, the Full-Day Mykonos Catamaran Cruise is an excellent alternative – it's a little more expensive but the food is also better.


Starts with a walking tour of Mykonos Town and then visits the best sights, small villages (like Ano Mera above), and small hidden churches all over the island.


This photo is from a helicopter tour I took of Mykonos (awesome but expensive) and I thought the aerial view gave a good overview of the Mykonos landscape. Beautiful beaches backed by rolling countryside with a mix of green farmland and trail-crossed steppes. Which all makes for a great hike. The hike ends with a swim at a beach. Ippos horseback riding is another great way to see the Mykonos countryside.


Discover the rugged landscape of Mykonos' interior on a standard bike or e-bike. Offering seven different tour routes to suit all experience levels and varying interests, whether leisure, romance, adventure, or challening. Casual cyclists can enjoy rural back roads, stopping at cultural sites, learning about traditional life, and finishing at the beach for a picnic and underwater photo shoot. More experienced cyclists can opt for a scenic bike ride up the mountain peaks as high as the wind turbines for panoramic views over the island's north coast. Private, bespoke tours can be arranged on request.


Daily wine tours in English (or French, on request) are on offer at this historic vineyard dating to the 19th-century, when it supplied wine for a local monastery. Guests of this family-owned homestead will learn about biodynamic cultivation and local winemaking customs, while sampling all four types of wines produced onsite. Visit during the fall harvest, and take the opportunity to stomp grapes in the traditional way. Food pairings can be added. This kid-friendly tour also includes visiting and interacting with the farm animals, including donkeys, sheep, and goats. Tours of the farm and vineyard are free; tastings and food pairings are additional.


Mosaic artist Irene Syrianou grew up on sacred Delos Island and worked there for ten years, familiarizing herself with the ancient mosaics of the archaeological site while honing her own techniques. In her private and group workshops, she instructs students in replicating the mosaics of antiquity or creating their own modern works. Workshops take place in Manto Garden or in her studio space and can range from an hour or two up to a multi-day seminar. All ages and experience levels welcome.


Cheesemaking, cheese tasting, and cooking classes are available at this locally-owned dairy in Agios Lazaros, a short drive from Mykonos Town. The dairy makes a variety of regional cheeses only found in Mykonos and the Cyclades, along with more familiar flavors and rich Greek yogurt. Cooking and cheesemaking classes include a tour of the facilities and sampling the wares. Hands-on workshops run for about two hours and are open to beginning and advanced cooks, ages 14 and older.
The Best Free Thing To Do in Mykonos

Mykonos Beach Walk

Walk from Platis Gialos Beach to Paradise Beach, making stops at beach bars and restaurants along the way. You'll pass Agia Anna and Paraga beaches and several other small swimming coves. Super fun and free! (Besides what you spend on food and drinks, of course.) If you're staying in Mykonos Town, take the bus to Platis Gialos and then start walking along the beach towards the east (if you're facing the water, walk to your left). There are several great places to eat along the walk. If you hike straight to Paradise Beach it will take about an hour (without stops). Then bus back from Paradise to Mykonos Town or take the water taxi back to Platis Gialos or Ornos (my personal favorite).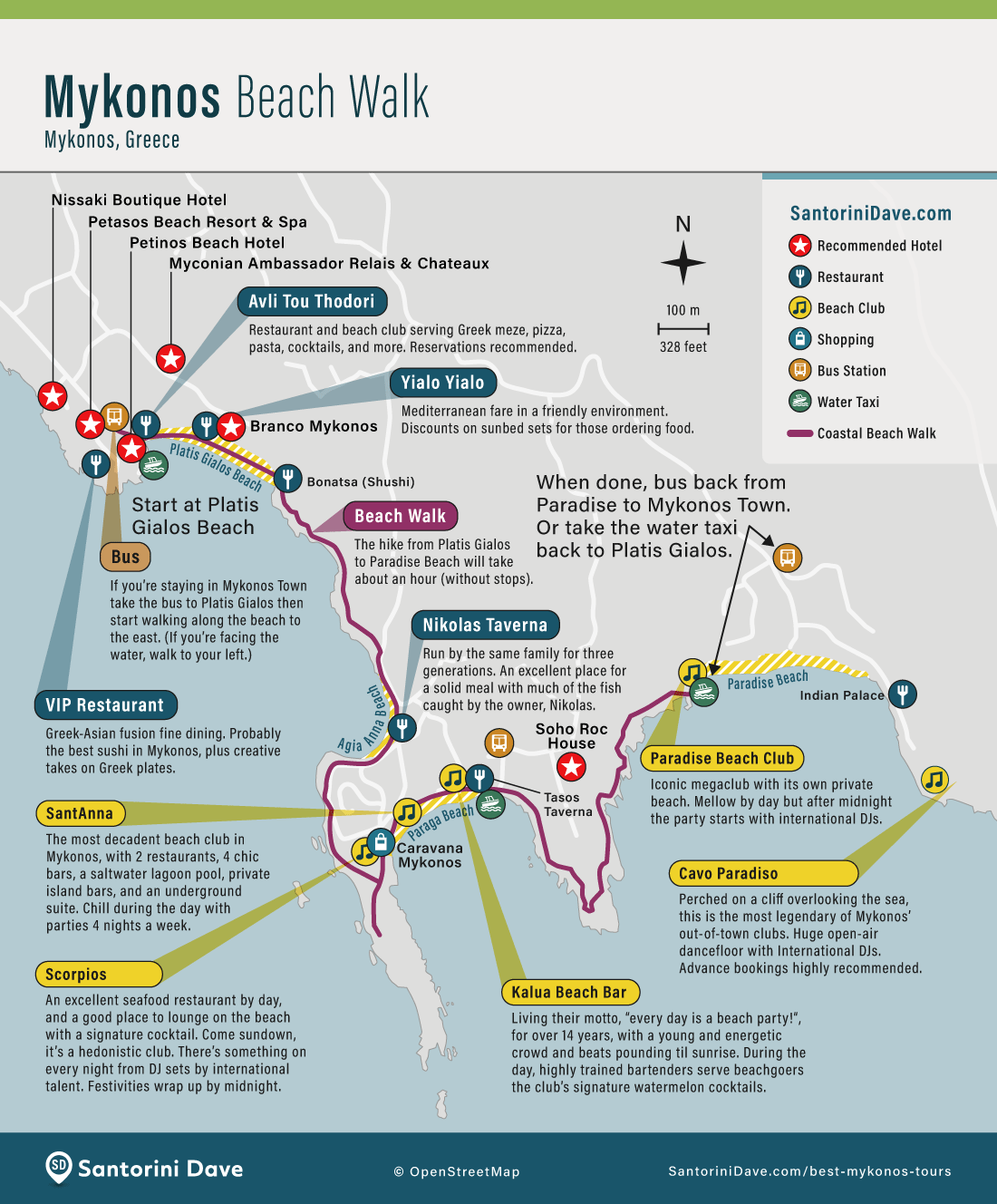 Hotels on Map: Nissaki Boutique Hotel • Petasos Beach Resort & Spa • Petinos Beach Hotel • Myconian Ambassador Relais & Chateaux • Branco Mykonos • Soho Roc House
Read More