Greece › Athens › Best Restaurants
by Santorini Dave • Updated: January 26, 2023
See Also
• Where to Stay in Athens
• Best Hotels in Athens
• Best Family Hotels in Athens
• Best Things To Do in Athens
Dining in Athens

Meal times in Athens: Greeks typically eat late. Lunch time is between 1:30 and 3:00 p.m. and dinner is usually around 9:00 or 10:00 p.m. Of course, restaurants in the more tourist-centric areas will serve lunch as early as 11:00 a.m. or 12:00 p.m. and dinner starting at 7:00 p.m., but the restaurants will be largely empty with fewer locals. Breakfast is not a major meal in Greece.
Reservations in Athens: Reservations are not necessary for most restaurants in Athens, a city known for casual tavernas and outstanding street food, and most restaurants here don't take them. However, for fine dining or for dining with a view at the best rooftop restaurants and bars, it's a good idea to reserve a table in advance.
Eating with Your Hands: There is a misconception that Greeks eat almost everything with their hands. While this is certainly true for on-the-go snacks and meals, like gyros and cheese pies, or for pork and lamb chops at very casual restaurants, diners at nicer restaurants use cutlery for most things. Even for dipping bread, it is typical to cut a small piece and use a fork to dip and eat.
Water is perfectly safe to drink from the tap in Athens. Ask your server for tap water, as they will often offer bottled water first, which adds a few unnecessary euros to your bill.
Wine: Greek wines are criminally underrated. The country has been producing wine for thousands of years and offers some truly amazing varieties, especially white wines. The top wine regions in Greece are the Cyclades, the Peloponnese, and Macedonia regions. Types to try include Assyrtiko and Moschofilero (both whites), Agiorgitiko (rosé and red), Xinomavro (red), and Vinsanto (dessert wine made from white grapes but orange to deep amber in color).
Tipping in Athens: Tipping is customary. A general rule for a casual meal at a taverna is to tip about €2 to €5 or to round the bill up to the nearest number ending in a "0" or "5." For example, if your bill is €27, leave a total of €30. For higher-end restaurants, tipping 5 to 10% is standard; 15% is considered generous. For bars and cafés if ordering at the counter, round up to the nearest euro; for table service, tip about 5 to 10%.
Best Places to Eat in Athens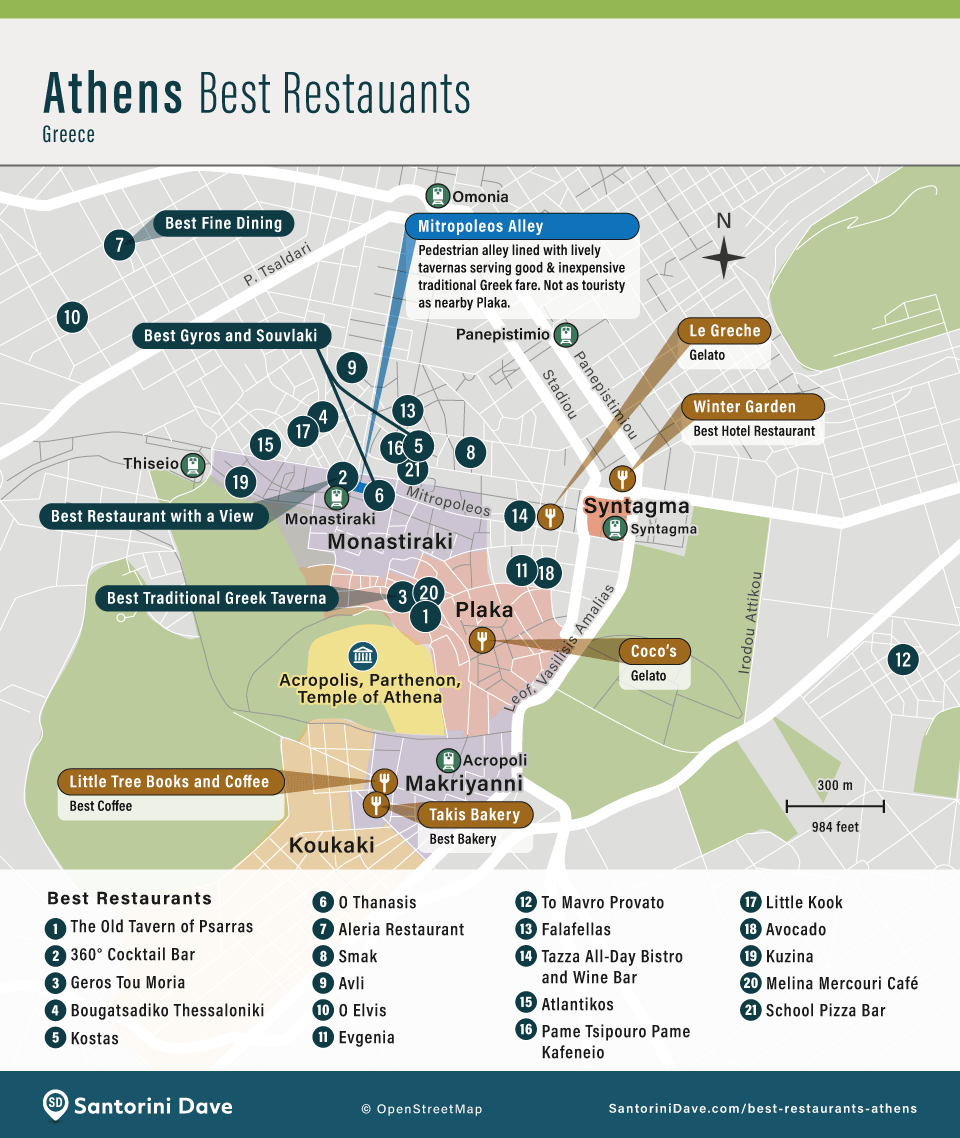 28 Best Restaurants in Athens


Website • Phone: +30 21052 22633 • Nearest Metro: Metaxourgeio
The best fine dining restaurant in Athens. Aleria serves contemporary, creative Mediterranean fare highlighting seasonal ingredients and regional specialties. Their extensive wine list showcases artisanal wines from top Greek and international producers. The restaurant sits in a neoclassical villa with indoor seating year-round and elegant garden seating in the summer.


Website • Phone: +30 21032 21753 • Nearest Metro: Monastiraki
Yes, it's a bit touristy, but this quaint, 90-year-old taverna is the best place in Athens to try classic Greek dishes paired with live Greek music and dancing every night. Order the moussaka, lamb, or bekris mezes (veal and eggplant in tomato sauce). Sit outdoors under the grape vines for views of the Acropolis, or sit indoors to be closer to the music and dancing. Reservations recommended for late dinner service, when the music starts.

3. Granada – City Center • $$


Website • Phone: +30 21032 50090 • Nearest Metro: Panepistimio
A luscious meeting of Spanish and Greek flavors makes this casually cool tapas spot popular with locals. Menu highlights include octopus with fava and caper jam, Iberian pork cheeks, and jamon croquettes. Most plates cost about €5 to €7, wonderfully affordable and premium quality. The beer, wine, and local spirits selections are limited but good quality. Open daily from 2:30 p.m. until 12:30 a.m.


Website • Phone: +30 21032 18733 • Nearest Metro: Acropoli
Also called Psaras Tavern, this charming restaurant first opened in 1898 and was later a famous haunt of Laurence Olivier, Vivian Lee, and Graham Greene. The traditional Greek menu features fresh seafood, meat (with especially great lamb), and plenty of vegetarian options. A romantic, casual atmosphere, great house wine, and live music on Friday and Saturday nights. Indoor and outdoor seating available. Open with continuous service for lunch and dinner. Reservations recommended for dinner.


Website • Phone: +30 21032 10006 • Nearest Metro: Monastiraki
Stylish rooftop bar and restaurant with outstanding cocktails and Greek meze and arresting views of the Acropolis and Parthenon. Popular with locals and travelers alike, reservations are not required to get in, but they are strongly recommended to secure the tables with the best views, especially for sunset cocktails or dinner. Open all day and into the wee hours, from 9:00 a.m. to 3:00 a.m.


Website • Phone: +30 21660 03320 • Nearest Metro: Syntagma
The only Greek outpost of this global, fine-dining seafood brand is in the luxury, boutique hotel, xenodocheio Milos. Fish and seafood are caught daily in the Aegean Sea just off the coast and paired with fresh, seasonal, local ingredients. Open almost all day, from 7:00 a.m. to 11:00 a.m. and again from 12:00 p.m. to 12:00 a.m. Reservations strongly recommended for dinner.


Website • Phone: +30 21072 23466 • Nearest Metro: Evangelismos
A simple yet elegant restaurant serving regional Greek fare that highlights the best ingredients and recipes from throughout the nation: Cretan cheeses, Macedonian smoked beef sausage, Peloponnesian wine, and more. The restaurant offers indoor and outdoor seating, modern design, and friendly staff. Open from 1:00 p.m. to 1:00 a.m. daily (1:00 p.m. to 7:00 p.m. on Sundays).


Website • Phone: +30 21032 19119 (Food Artistry in Monastiraki), +30 210 3254 184 (Meze in Psirri) • Nearest Metro: Thisio (Food Artistry), Omonia (Meze)
A blast from the past, these two restaurants and one shop revive the Byzantine pastomageireio, a combination of tavern and deli specializing in the charcuterie of central, coastal Anatolia. Cold cuts, cured fish, hot meze, and an impressive selection of Greek wine, beer, and spirits are on offer at both restaurants, while the shop sells cured meats and aged cheeses, perfect as souvenirs. The spicy sudjuk sausage is a favorite, along with aged kavurma, pastirma, and their signature, complimentary dessert of buffalo yogurt topped with carrot marmalade. The Meze restaurant and nearby shop are in Psirri, while the Food Artistry restaurant (pictured above) is in Monastiraki.

9. Kostas – Monastiraki • $


Phone: +30 21032 32971 • Nearest Metro: Monastiraki
The best gyros and souvlaki in central Athens, offering a choice of pork or beef topped with fries, fresh veggies, and their signature tomato sauce in place of tzatziki. This no-frills shop has hardly any seating, so be prepared to take your order to go. If the line is too long (as it often is) or if you crave for a more traditional gyro, head to the equally excellent O Thanasis, just a 3-minute walk away. Kostas is open Monday to Friday from 10:00 a.m. to 6:00 p.m.


Website • Phone: +30 21072 36903 • Nearest Metro: Evangelismos
You may be the only traveler when you visit this no frills, Greek taverna. The specialty is meat, and they are best-loved for their grilled lamb chops with a splash of lemon and kontosouvli, spit roasted chunks of pork. Tucked away on a side street in Pangrati, away from the tourist crowds. The restaurant is busiest after 8:00 or 9:00 p.m., when the locals stop by to dine.

11. Avocado – Syntagma • $$


Website • Phone: +30 21032 37878 • Nearest Metro: Syntagma
Lovely vegan and vegetarian restaurant near Syntagma Square. Avocado focuses on local, seasonal, sustainable, and organic dishes full of rich flavors. Gluten-free and wheat-free dishes are available, as is a selection of organic wines. Open for lunch and dinner every day until midnight, except on Sundays when they close at 7:00 p.m.

12. O Thanasis – Monastiraki • $


Website • Phone: +30 21032 44705 • Nearest Metro: Monastiraki
This family-friendly standby since 1965 has plenty of tables along the pedestrian street out front just off Monastiraki Square. Most dishes are meat-centric, though they also serve up an excellent saganaki, Greek salad, and tirokafteri (feta dip). A busy restaurant, but service is quick, so wait times for tables are usually short. Open all day from 9:00 a.m. until 1:30 a.m. (2:30 a.m. on Fridays and Saturdays).

13. Feyrouz – City Center • $


Website • Phone: +30 21303 18060 • Nearest Metro: Monastiraki
High-quality, family-owned, Lebanese-Greek street food blending traditional tastes with contemporary techniques. Everything here is handmade, down to milling their own flour, and fresh, moving with the seasons and what is locally available. The lahmajoun, topped flatbread, wrapped around colorful salads, are especially popular, along with their i>peynirli (Black Sea style pizza boats). The restaurant is split into two buildings, with savory items in one and sweet treats (baklava, Eastern puddings, and truffles) in the other. Wide choice of vegan and vegetarian options.


Website • Phone: +30 21141 85517 • Nearest Metro: Syntagma
Flamboyant bistro for Mediterranean-Greek bites, wine, and cocktails – best-loved for their breakfast and Sunday brunch. Tazza sits on a lively street near Syntagma Square, with indoor and outdoor seating spilling out onto the sidewalk with colorful, mismatched, vintage furniture and a cheerful atmosphere. Open most days from 7:30 or 8:00 a.m. until 1:00 or 2:00 a.m., except Sundays when they open at 11:00 a.m.

15. Ariston – City Center • $


• Phone: +30 21032 27626 • Nearest Metro: Syntagma
Ran by the same family, the Lobotesis, since 1910, Ariston is an Athenian institution known for it's savory kourou pies: feta-filled half-moons wrapped in a butter and yogurt-based, unleavened, phyllo dough – hearty and filling, one of these makes an easy, cheap, handheld breakfast or lunch. Other savory and sweet pies to try here are the custard-stuffed bougatsa, the kotòpoulopita (chicken pie), and the pie with bacon, pepper, and cheese. Open 7 days a week, usually from 7:30 a.m. until 6:00 or 8:00 p.m. There is limiting seating, so plan on taking your food to go.


Website • Phone: +30 21032 22088 • Nearest Metro: Monastiraki
Wonderful café in the funky Psirri neighborhood, serving excellent coffee and pastries and best known for their bougatsa (custard and phyllo pastry), a family recipe brought to Athens from Thessaloniki by the owner's grandfather. Other stand-outs include the spanakopita (spinach pie) and tiropita (cheese pie). An excellent stop for breakfast, brunch, or late-night snack. Indoor and outdoor seating available. Open from 7:00 a.m. to 2:00 a.m. most days and 24-hours on Fridays and Saturdays.

17. Evgenia – Plaka • $


Website • Phone: +30 21032 14121 • Nearest Metro: Syntagma
AKA Paradosiako Cafeneon, this authentic, family-run Greek taverna serves homemade, traditional dishes with an ever-changing menu featuring seasonal ingredients. Much less touristy than other restaurants in Plaka, Evgenia is popular with locals for their rich flavors and cozy ambiance. Open all day, from 9:00 a.m. to midnight.


Website • Phone: +30 21032 47605 • Nearest Metro: Acropoli
Casual taverna since 1935 with traditional Greek comfort foods; think moussaka, meatballs, dolmades, and saganaki (fried cheese). Though dishes can be bought individually, Scholarhio's meze menu is designed for sharing. For example, the "Suggested Menu for 2 People" includes 5 dishes, plus 2 desserts, 2 drinks (beer, wine, spirit, or soda), and a 1.5 L bottle of water, all for just €33. Excellent location on Tripodon, the main drag in the Plaka neighborhood. Reservations recommended, especially for groups.


Website • Phone: +30 21 3033 0850 • Nearest Metro: Thiseio
One restaurant, two kitchens: the original kitchen serving super-fresh seafood and the new kitchen dedicated to traditional Greek fare. All recipes are authentic and delicious, but they are especially known for their savoro (pan-fried white fish with black currents) and fava (chickpea dip) with marinated anchovies. Outdoor seating on the sidewalk and indoor seating on the main or upper floors. The original seafood kitchen is open daily from 1:00 p.m. to 1:00 a.m.; the new Greek kitchen is open the same hours on Fridays, Saturdays, and Sundays and for dinner only Mondays to Thursdays.

20. Avli – Psirri • $


Website • Phone: +30 21032 17642 • Nearest Metro: Monastiraki
Known for its rustic simplicity, this hole-in-the-wall restaurant lies behind a narrow door between two larger shops, so it's easy to miss. The door leads to an old alley converted into a low-key, courtyard restaurant. Standout dishes on their pared-down menu include keftedes (meatballs), kolokithokeftedes (zucchini balls), fava, and Greek salad. Generous servings of boxed wine. Open for lunch, dinner, and late night meze from 11:00 a.m. to 2:00 a.m. every day but Tuesdays. Avli does not take reservations. Be prepared to wait – it's totally worth it.


Website • Phone: +30 21032 50208 • Nearest Metro: Monastiraki
Lively café in Aiolou, Monastiraki, serving excellent coffee, spirits, and Greek meze (small, shareable plates similar to tapas). The restaurant was inspired by the kafeneios of old Greece, central to a village's social framework, serving as combination coffee shops, bars, mini markets, and meeting places. Casual atmosphere, indoor and outdoor seating, open all day from 7:00 a.m. until midnight.

22. Falafellas – City Center • $


Website • Phone: +30 21032 39809 • Nearest Metro: Monastiraki
The best falafel in Athens and one of only a handful of places where you can actually get spicy food. Falafellas runs a tiny kitchen and offers a simple menu of falafel or meatballs wrapped in pita and topped with fresh veggies (spicy sauce is optional), along with refreshing sides like hummus and tabbouleh. There is no seating, so be ready to take your wrap to go. Open all day, every day from 11:00 a.m. to midnight.

23. Smak – City Center • $


Website • Phone: +30 21140 97046 • Nearest Metro: Panepistimio
Awesome street food spot for pizza and their signature peynirli, made using a combination of Greek-Turkish and Neapolitan techniques for dough. Everything is cooked to order in an open kitchen and topped with a variety of cheeses, meats, veggies. Dine in or take away. Open for lunch, dinner, and late-night bites.

24. Kuzina – Monastiraki • $$$


Website • Phone: +30 21 0322 0133 • Nearest Metro: Thiseio
Upscale, contemporary Greek restaurant offering stunning Acropolis and Temple of Hephaestus views from its rooftop terrace (open from April to October). The menu changes seasonally with a few year-round staples, lots of vegetarian choices, and for solo diners, some menu items can be ordered in half-sizes. Standout dishes include thesoutsoukakia (combination grilled beef and lamb) and savory loukoumades (Greek dumplings) stuffed with cheese and tomatoes and topped with pistachios and pomegranate sauce. The restaurant serves lunch daily from 1:00 p.m. to 5:00 p.m. and dinner from 5:00 p.m. to midnight. Reservations recommended.


Website • Phone: +30 21032 46501 • Nearest Metro: Monastiraki
Sweet café in the heart of Plaka offering Greek meze, traditional dishes, and desserts – an ideal spot for breakfast or a late-night snack. The café is popular with locals despite its location in tourist-heavy Plaka. The café serves as a mini-museum dedicated to Melina Merkouri, and actress, singer, politician, and activist; her 1960 film "Never on Sunday" is what popularized the Greek trend of smashing plates.


Website • Phone: +30 21032 51444 • Nearest Metro: Monastiraki
Bustling Italian restaurant offering thin-crust pizza, pasta, risotto, and gnocchi paired with delicious Greek and Italian wines and creative cocktails. Indoor and outdoor seating available in their cozy restaurant decorated with a schoolhouse theme, complete with desks, lockers, and chalkboards. Open all day from 10:00 a.m. to 3:00 a.m. Reservations recommended but not required.

27. Agora – Syntagma • $$$


Website • Phone: +30 21001 09090 • Nearest Metro: Syntagma
Fun restaurant inside Ergon House Hotel. Part of the hotel's market, the restaurant tables thread alongside the greengrocer, deli, bakery, butcher, fishmonger, and in front of the Agora's own vertical culinary garden. Mediterranean dishes here are prepared with top ingredients sourced from within Greece, with great attention paid to the regional wine varieties.


Website • Phone: +30 21032 14144 • Nearest Metro: Monastiraki
Little Kook is all about the spectacle and less about the food. This fairytale-themed dessert spot serves coffee, cocktails, and sweet treats (especially known for pancakes, pralines, and cakes). But the main attraction is its over-the-top decorations which change seasonally and spread throughout its massive 3-building complex (plus outdoor seating in summer). The shop opens daily from 9:00 a.m. to 1:00 a.m. They do not accept reservations and waits can be long.

Best Area to Eat in Athens
One of the best places to eat at an outdoor restaurant in Athens is in the Plaka or Monastiraki neighborhoods. Tables spill out into the squares and alleys as Greeks sit late into the evening talking, laughing, yelling, and eating. It's lots of fun.

The best area to go is around Monastiraki square and metro station. Just east of the metro station, Mitropoleos Alley is lined with lively restaurants that serve good inexpensive food. In the Plaka area, you are more likely to be surrounded by fellow tourists, whereas in the Monastiraki area you'll be eating with more locals. There's lots of traditional Greek food on the menu here; gyro, souvlaki, hummus, and greek salads are very popular.

Certainly, this isn't the absolute best food you'll find in Athens – it is a little touristy – but it's still very good. It's a short walk for most tourists from their hotel, easy to find, and safe. Walk to the Monastiraki metro station and you can't miss the restaurants. They're very easy to see and find. Pick the first one that has an open table – they're all good.
Read More