Greece › Santorini › Hotels › Cavo Tagoo Review
by Santorini Dave • Updated: January 19, 2022
Essentials
• Location: Quiet area, just north of Imerovigli village, with incredible caldera views
• Map
• Hotel website: cavotagoo.com
• Hotel phone: +30 22860 27915
• Check prices for Cavo Tagoo
Hotel Review

Cavo Tagoo – The most stylish hotel in Santorini, Cavo Tagoo offers luxurious suites, a swanky restaurant, and a heated infinity pool with expansive caldera views.

This glamorous boutique hotel has thirteen posh suites, all with private jacuzzis or heated pools. The hotel features bespoke furnishings throughout in suede, copper, and rich woods, while the architecture is in a contemporary Cycladic style. The heated infinity pool boasts magnificent views over the caldera to Skaros Rock, the old and new volcanoes, Thirassia Island, and Oia. Vezené, the hotel's caldera-view restaurant, is a Greek-inspired bistro and open fire grill, featuring local and line-caught seafood and grass-fed sustainable meats. Expect to be pampered here.
See Also

Cavo Tagoo – Location

• Area: Absolutely gorgeous location at the northern edge of Imerovigli, among the very best views on the island, though it may be a little remote for some. The hotel is in a very quiet area, just north of Imerovigli village, 25 minutes' walk to the village's restaurants and attractions.

• How to Get There:
Cavo Tagoo offers complimentary round-trip airport and port transfers. The hotel sits on the side of the caldera, just off the main road connecting Fira and Oia, making it easy to get to by bus, taxi, or rental car. It is approximately 9km from the Santorini Airport to Cavo Tagoo, and 13km from the ferry port.

There are always buses waiting at the ferry port for every ferry arrival, as well as buses departing hourly from Santorini Airport. There are no direct buses from the port or airport to Imerovigli, however; buses from both locations go to Fira, where you must then board a different bus to Imerovigli – the entire trip from the port or airport to Imerovigli will take around an hour and cost about €5 in total. Tickets are purchased on the bus, in cash only. There is a bus stop just outside the front door of the hotel.

Taxis are also available from the port or airport, though there are only about 25 taxis in total serving the whole island, so there can be a long wait; if you don't arrange transfer through the hotel, schedule a private car service in advance (I use and recommend Welcome Pickups). Taxis on Santorini are not metered, so be sure to agree on a price with the driver before setting out. A taxi from the airport to Cavo Tagoo should be about €25 to €30, and a taxi from the ferry port to Cavo Tagoo around €30.

For those who prefer to drive themselves, we recommend renting a car either at the airport on arrival, or in Fira. The road from the ferry port is steep and narrow, with many tricky switchbacks, large trucks, and buses. Leave that for the locals to navigate. We strongly recommend reserving a vehicle in advance, especially if you require automatic transmission. Upon arrival, Cavo Tagoo offers free valet parking on site (a major perk, as Imerovigli is one of the hardest areas for parking on the island).

• Handy to: The Oia-Fira Hiking Trail, Santorini Princess (neighboring hotel with the closest restaurant and bar).
Map of Cavo Tagoo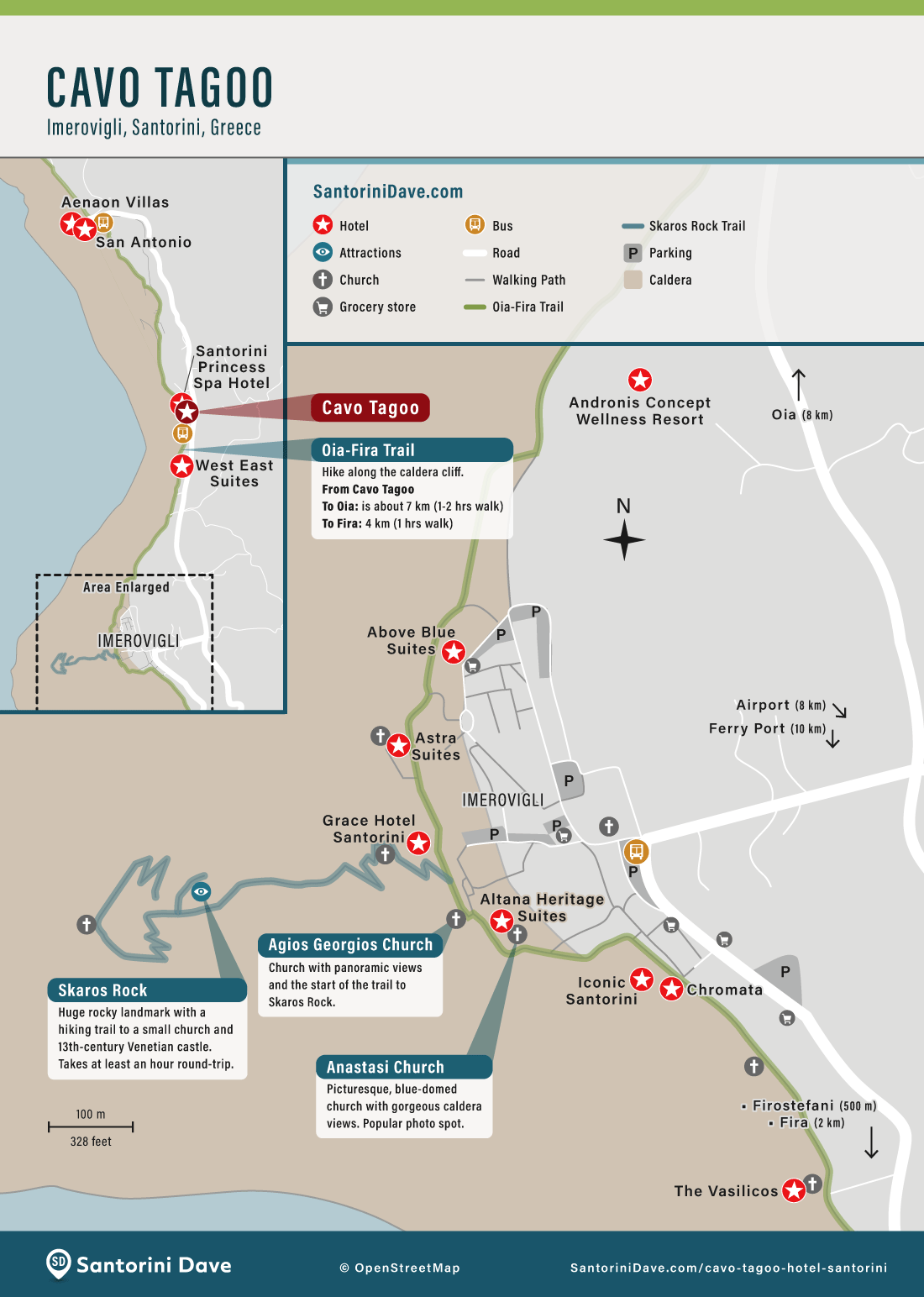 Cavo Tagoo – The Basics

Ages: All ages are allowed at the hotel. Guests tend to be couples from North and South America celebrating a romantic occasion, usually a honeymoon, anniversary, or a proposal.
Beach: The nearest beach is Koloumpos Beach, 5 km northeast, but Exo Gialos is a better beach and not much farther, just 5.4 km to its north end or 7.2 km to the south end with its impressive wind-sculpted cliffs. The best beach bar and restaurant is East Breeze, just a few meters from the cliffs. The north end has a small harbor and another great beach bar and restaurant called Yalos.
View: Spectacular caldera views from all rooms and throughout the hotel.
Private Pools/Jacuzzis: All room and suites have a private jacuzzi, private pool, or both. The Junior Suite with Hot Tub and Maisonette with Hot Tub feature private, outdoor jacuzzis, while the Suite with Hot Tub has an indoor jacuzzi. The Pool Suite, Superior Pool Suite, Honeymoon Pool Suite, Grand Honeymoon Pool Suite, and Cavo Tagoo Suite with Pool all boast outdoor, heated, private pools. The Cavo Tagoo Diamond Suite with Pool offers both an outdoor, heated pool and an indoor jacuzzi.
Parking: Free valet parking onsite.
Extras: Pet friendly (small dogs up to 7 kg), weddings, special events, excellent concierge, nightly turndown service.
When to Book: The hotel operates from mid-April through late October. Reserve at least 4 months in advance (6 months is better) for travel during the high season from June through September. Reserve at least 2 months in advance for stays during low or shoulder season.
How to Book: Booking.com will have the best rates.
Phone: +30 22860 27915, +30 22860 27900
Website: cavotagoo.com

Cavo Tagoo – Amenities

Pool: Gorgeous, heated infinity pool on the edge of the caldera with floating sun loungers and Bali beds.
Spa: There is no spa onsite, but they do offer massage therapy in a treatment room or in-suite.
Fitness Center: No gym.
For Disabled Guests: This hotel sits above the caldera and has no elevator, though it doesn't have nearly as many stairs as most caldera properties. Cavo Tagoo is doable for guests with mild to moderate mobility issues, but it is definitely not wheelchair accessible.
For Families: Cavo Tagoo is an all-ages property, though only one suite type, the Maisonette with Hot Tub, can accommodate groups of up to 4 guests. Four other open plan suites can sleep up to 3. There are no special amenities or facilities for children. This is a pet-friendly hotel, allowing dogs up to 7 kg.
Activities: A variety of excursions can be arranged through the concierge for an additional price, including yachting, climbing tours, scuba diving, helicopter and jet charters, wine tours, and more.

Cavo Tagoo – Food and Drink

Restaurant: Vezené, the hotel's caldera-view restaurant, is a Greek-inspired bistro and open fire grill, featuring local and line-caught seafood and grass-fed sustainable meats. Open for breakfast, lunch, and dinner from 8:00 a.m. until midnight. • $$$
Lounge/Bar: The All Day Lounge offers poolside service for lunch, snacks, and cocktails throughout the day from Vezené's kitchen. Food is elegant yet casual, and drinks are on point.
Breakfast: Complimentary a la carte breakfast is served daily from 8:00 a.m. to 11:00 a.m. in Vezené, or can be served directly to the room. Brunch can be served after 11:00 a.m. for an additional price. The breakfast features flavorful, local, fresh products with a focus on Greek fare. Great coffee and juices, too.
Room Service: Available 24 hours.

Cavo Tagoo – Rooms

Room Types: Junior Suite with Hot Tub • Suite with Hot Tub • Maisonette with Hot Tub • Pool Suite • Superior Pool Suite • Honeymoon Pool Suite • Grand Honeymoon Pool Suite • Cavo Tagoo Suite with Pool • Cavo Tagoo Diamond Suite with Pool
Smoking Rooms: The hotel does not allow smoking in any of their rooms. Smoking is allowed on the private terraces and in the outdoor common areas.
Best Room: The Cavo Tagoo Diamond Suite with Pool is their top-tier room. The room features a queen bed, a sofa bed, and an indoor jacuzzi. Outside, there is a shaded terrace with a daybed and a private, heated infinity pool with sweeping views over the caldera. The suite offers a generous 44 sqm interior space, plus 65 sqm outdoor space.
For Families: This is an all-ages hotel, though there are no special amenities or facilities for children. They also welcome small dogs up to 7 kg. The best room for families is the Maisonette with Hot Tub – the only suite that can accommodate up to 4 guests. This 2-floor suite has the living room and 1 bathroom downstairs, and the bedroom and another bathroom upstairs, along with a spacious private veranda with a jacuzzi overlooking the caldera. This suite offers 55 sqm inside and 21 sqm outside.

Cavo Tagoo – Local Transport

Walking: The hotel is located at the northern edge of Imerovigli, right on the Oia-Fira Trail. The nearest restaurant is at the neighboring hotel, Santorini Princess, just 4 minutes away on foot. Walk 20 minutes south to reach Imerovigli village; all of the restaurants, attractions, and boutiques in the village are accessible on foot within 20-35 minutes of the hotel.
Bus: The nearest bus stop is on the main Fira-Oia road, just out the front door of the hotel. Passing buses go north to Oia and south to Firostefani and Fira. From Fira you need to change buses for the other major villages and beaches on the island. Tickets are bought on board and range from €1.80 to €2.50 per person in the daytime, depending on the route. Night buses (12:30 a.m. to 5:00 a.m.) run less frequently and cost a little more, from €2.30 to €3.10. Buses can get very crowded, especially during the high season, so much so that they often fill to capacity and are unable to take on more passengers. There are only 23 public buses serving the island.
Taxis: The nearest taxi stand is at Stathmos Taxi, all the way down in Fira, so it's not very practical to walk or bus to. Plus there is often a wait here as there are only 25 taxis serving the entire island (with guests from about 1,000 hotels, villas, and Airbnbs). Book ahead to avoid the wait, and have them meet you directly at the hotel. There will be a small surcharge for advanced reservations and for carrying luggage, usually just a couple of Euros. The average rate from Imerovigli to Fira is roughly €10, and from Imerovigli to the airport or port is around €20.
Scooters/Motorcycles: Scooters are the main mode of transportation for the locals, but if you're unfamiliar with the terrain, it can be very dangerous. The roads here are zigzagging, hilly, narrow, and have sheer drop-offs with no guardrails and no street lights in most areas. Lots of dirt roads and potholes.
ATVs/Quads: ATVs are a fun and popular mode of transportation with tourists, but for the locals stuck driving behind them, they move too slowly and hold up traffic in an area where getting around is already a hassle. For those who don't ride quads regularly (i.e. most people), they can be dangerous at high speeds and on turns. Crashing your ATV is a sure-fire way to ruin your vacation.

Cavo Tagoo – What's Nearby?

Best Nearby Restaurants

Best Nearby Bar

Buddha Bar Beach: Upscale cocktail bar, restaurant, and shisha lounge with views over Skaros Rock to the caldera. Pricey but on point.

Best Nearby Cafe

Hlios Bakery: Good coffee, basic pastries, and deli sandwiches. Not exceptional, but the bakery's cheap, and delivers (cash only for deliveries).

Nearby Shopping & Cool Shops

Pegasus Boutique: Next to the hotel of the same name, this little boutique offers clothing, shoes, swimwear, and accessories by Greek designers.
Under a Fig Tree: Upscale boutique featuring Greek-designed fashion, accessories, and swimwear right on the Oia-Fira trail.

Nearby Attractions

Oia-Fira Hiking Trail: One of the top attractions on the island is this scenic 10.5 km hiking trail connecting Oia and Fira. A mix of sidewalk, cobblestones, and dirt trail, this route boasts gorgeous vistas the entire way. Hiking northwest, the full length of the path from the hotel to Oia Castle takes from 2 to 4 hours; heading south to the trail's end in Fira, near Keti Hotel, takes about 30-40 minutes. Add about an hour for a detour at Skaros Rock either way. 1-minute walk from the hotel.
Imerovigli Basketball Court: Not an attraction, but good to know. This is the main parking area in Imerovigli.
Anastasi Church: The most picturesque, blue-domed church in Imerovigli offers gorgeous caldera views overlooking Skaros Rock. Popular for weddings and photo shoots.
Skaros Rock: Impressive volcanic rock formation housing the ruins of a medieval castle and town, dating to 1207. The monastery at its base, Panagia Theoskepasti, is the only part of Skaros that is still active. 30-minute walk to the trailhead; 10 minutes from there to reach Skaros.
Agios Georgios Church: Small white church on a platform over the caldera, marking the start of the trail to Skaros Rock. Gorgeous, panoramic views from here.

Nearby Markets or Grocery Stores

Supermarket Nissi: The friendliest market in the area, and usually the best prices in Imerovigli.
Jimmy's Market Cava: Market and deli with a great selection (especially the wines), plus great coffee and breakfast sandwiches (more consistent and better quality breakfasts than Hlios, but they don't deliver).

Cavo Tagoo – The Hotel
Read More