Greece › Santorini › Fira to Oia Walk
by Santorini Dave • Updated: November 6, 2023
See Also
Fira-Oia Hike & Walking Tours

I recently had someone tell me (and this person was a passionate hiker) that the Fira to Oia hike wasn't just the best hike on Santorini. It was the best hike they'd ever done in their life. Be prepared for awesome.
The Fira-Oia Path is the best walking tour from Fira to Oia. Highly recommended. (Includes hotel pick up and drop off.)
The walk between Fira and Oia is tricky in parts but doable by anyone in decent shape.
Buy water before starting the walk – there are a few places to buy snacks and drinks along the way but they're easy to miss and not always open early in the morning.
Avocado Restaurant is the best mid-point stop along the route. It's open for lunch (not all restaurants are), very casual, and delicious. Reservations for lunch are usually not necessary.

The Best Tours Along The Santorini Caldera
Fira-Oia Walking Tour – The hike from Fira to Oia is incredible and this tour makes it even better. (3 to 5 hours)
Santorini Food & Walking Tour – Start in Firostefani and walk downhill to Fira with at least 7 stops for street food, local beer, wine, raki, Santorini cheeses, cold cuts, olive oil, bakery treats and traditional sweets. (4 hours)

The Fira to Oia Hike

The Fira-Oia Hike is the single best thing to do in Santorini – with a Santorini boat tour being a close second. The hike takes you along the caldera cliff and through the villages of Fira, Firostefani, Imerovigli, and Oia.
The hike takes between 3 and 5 hours depending on how fast you walk and how often you stop. If you do a side trip to Skaros Rock it will add at least an hour.
The hiking trail from Fira to Oia is just under 10.5km (6.5 miles). Part of the path is similar to a sidewalk, parts are cobblestone, and parts are a dirt path. There is a good climb in both directions.
Elevation along the route: Oia 130 meters; Imerovigli 350 meters (the highest point on the hike); Fira 270 meters. These elevations are a little deceiving. The climb from Oia to Imerovigli is long and gradual so you don't notice it as much. The climb from Fira to Imerovigli is short and steep.
Best Walking Tour on the Trail: Fira Walking & Food Tour – Eat, drink, and walk along the Santorini caldera from Firostefani to Fira. It's a short walk (about 15 minutes) with magical views and all downhill. Great food and wine too.
In summer, start early. It gets hot by 11am.
Buy water the day before as there won't be much open if you start early in the morning. There are places to buy drinks along the way but it's much easier to begin the trip with water and not have to worry about finding an open market.
Most 7 year-olds would have no trouble completing the walk in terms of difficulty (i.e. the quality of the path) but it is a very long walk for anyone under 10.
Do not take a baby stroller on the hike.
A very strong mountain biker could do the route on a bike but it's not meant for cyclists, there are few bike rentals on Santorini, and it would be disruptive to those on foot even if you had your own bike. Basically, no you can't do the trail on a bike.
It's easy to get a little lost on the walk. But it's hard to get really lost. Most of the time you can see the next town or landmark up ahead on the caldera cliff and if you're walking in that direction you're going to get there (eventually).
There are small shops to buy water and snacks in Firostefani and Imerovigli (assuming they've opened for the day).
Between Imerovigli and Oia there are two shops/cafes but they aren't always open.
From June to September return buses between Oia and Fira will be busy in the afternoon and taxis difficult to find. A good option is to grab a taxi or take a bus in the morning (before your walk starts) and then walk back to your starting point.
If you enter "Fira to Oia" into Google Maps and then click the walk icon, the route you get will take the most direct route that misses some of the best views. If you're walking on the road (with cars) you're doing it wrong. You should be on a footpath almost all of the way. The main exception is between Oia and Imerovigli when you need to walk along the road for a short stretch.
If you're on a Santorini cruise and want to do the Fira-Oia hike: You'll be tendered ashore at the old port below Fira and then you'll either walk up or cable car up to Fira. From there you can just start walking as you're already on the main path. When you get to Oia you can either bus or taxi back to Fira, and then back down by foot or cable car to the port to return to your ship. You'll need at least 5 hours onshore to do the hike.
Good restaurants to stop at on the Fira to Oia walk are Avocado in Imerovigli (open lunch and dinner) and Cafe Galini in Firostefani (open breakfast, lunch, and dinner).
Map of Fira-Oia Hike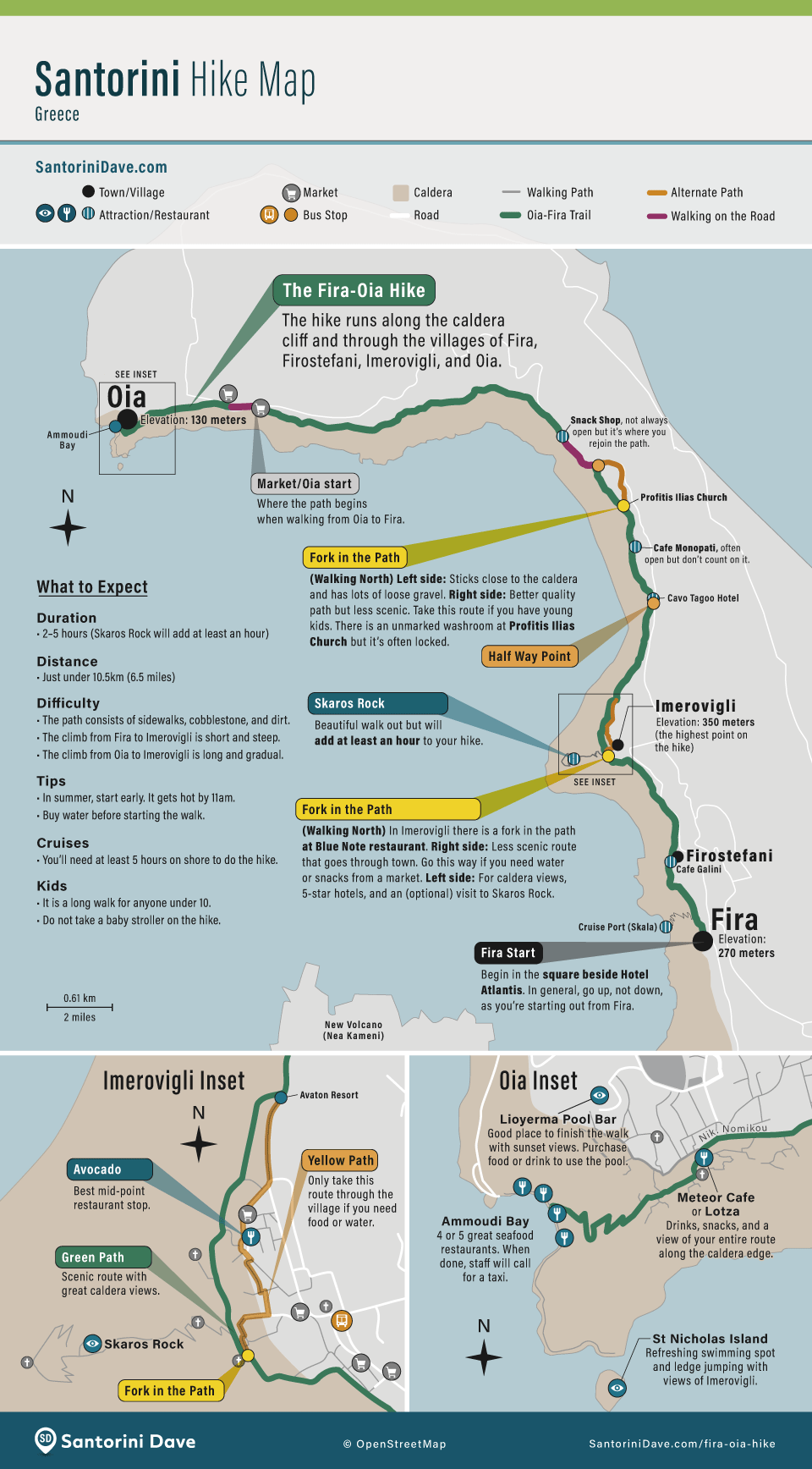 Fira to Oia Walk – Tips
Read More