Greece › Santorini › Santorini to Paros Ferry
by Santorini Dave • Updated: March 12, 2023
See Also
Santorini to Paros – Ferry Essentials

FerryHopper.com is the best way to buy tickets for Santorini to Paros ferries. It's also good for researching ferry timetables, costs, and schedules.
Book tickets 2 to 3 months in advance.
Most tickets (when booked through FerryHopper) are e-tickets which means you do not have to pick up a paper ticket before boarding.
If a ticket purchased online doesn't have a barcode that usually means you'll need to pick up a real ticket when in Greece. This is most often done at the ferry port 30 to 45 minutes before departure. Don't worry about pick up – it's easy and effortless and usually very close to your actual ferry.
Ferries will leave on-time from their first departure port in the morning (usually large ports like Piraeus, Heraklio, and Rhodes) but will be late arriving and departing from all onward ports (e.g. Naxos). Usually getting later as the day progresses.
Most areas in Greece, including Santorini and Paros, have public transportation strikes throughout the year. These strikes can affect all forms of transit, including, buses, trains, ferries, flights, and taxis. During strikes no buses, no ferries, and only a handful of trains and flights will depart on time (or at all); taxis tend to be the least affected mode of transport. Though strikes can occur any time, there is always a huge strike on May 1. Avoid booking any ferries, flights, or trains that day.

Santorini to Paros Ferry Schedule

Example Santorini to Paros Ferry Schedule

The islands of Santorini and Paros are well-connected by ferry in the busy summer tourist season, with more frequent ferries in July and August than in May, June, and September. Ferries depart Athinios Port in Santorini from early morning until mid-afternoon, with the latest ferry leaving Santorini at about 3:30pm. The length of the ride ranges from 2 to 3 hours, depending on what boat you choose and how many stops it makes. Blue Star ferries are larger, more stable, and generally slower, usually taking about 3 1/2 hours for the journey. Smaller high-speed catamarans can make the journey in about two hours. Ticket prices range from around €22 to €95.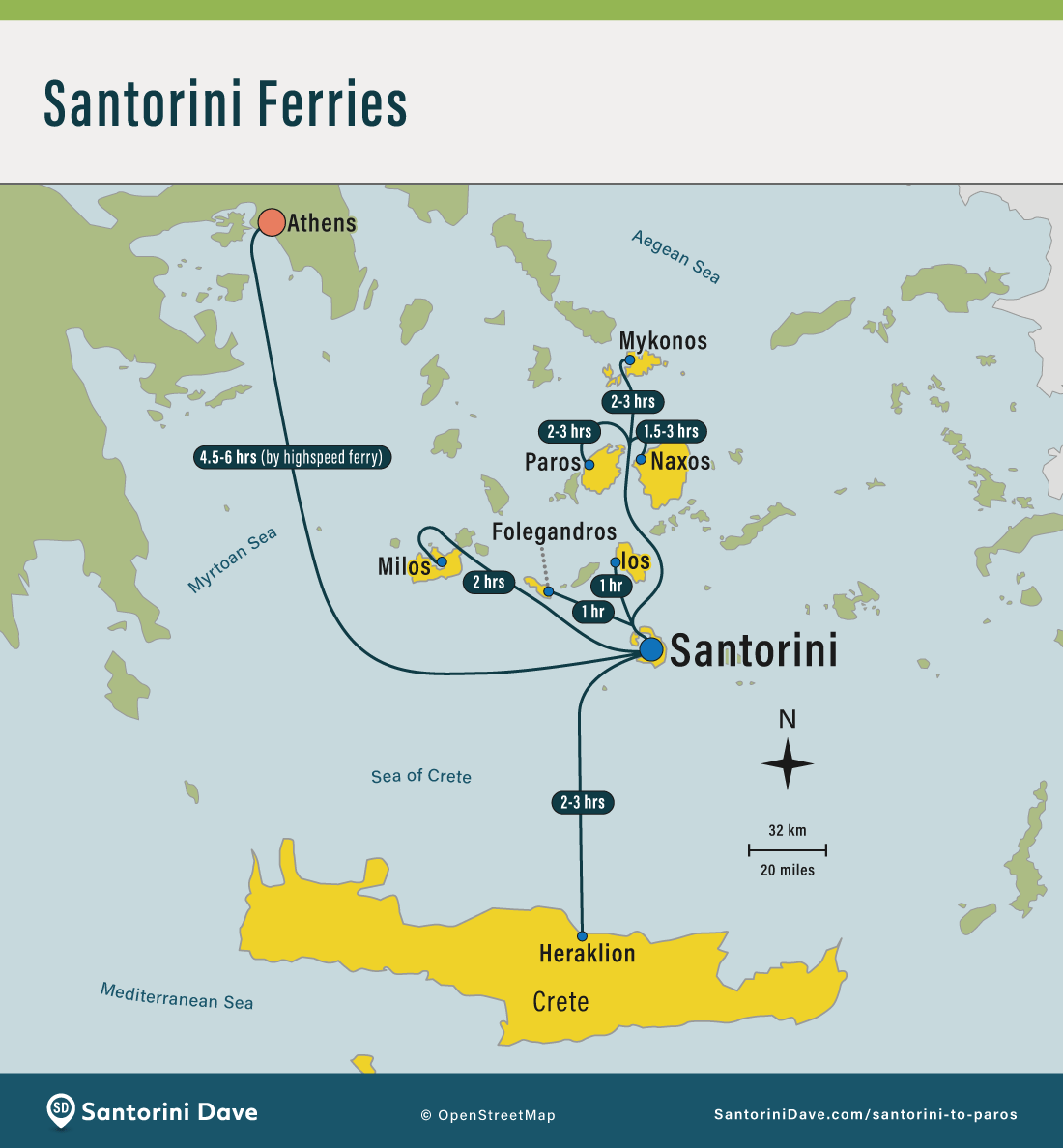 Read More