Home > Greece > Santorini > Oia Hotels
Updated: August 5, 2020
• Affiliate Disclosure: All hotel links on my site are affiliate links meaning I earn a small fee when you book a hotel. (There is never any extra cost to you for using these links). I use some of these earnings for my monthly charitable donation.
See Also
Staying in Oia – Tips and Advice

Oia is one of the most romantic towns in Santorini (along with Imerovigli). It's filled with great restaurants, boutique shops, and wonderful caldera views. Most hotels are just off the main pedestrian path that connects all the prime areas of Oia. There's only one true bar in Oia but it's a good one: Marykay's near the central square.
Where to Stay in Oia: If budget allows, stay at a hotel with a caldera view.
Best Luxury Hotels in Oia: Katikies • Canaves Oia Suites
Best Honeymoon Hotel in Oia: Oia Castle Luxury Suites (romantic, stunning, wonderful)
Best Villa in Oia: Oia Mansion (historic building with tons of charm and wonderful sunset views, great for groups)
Best Cheap Hotel in Oia: Villa Agnadi (outside of Oia but sill walking distance)
Best Cheap Hotel with Caldera View: Rimida Villas
Oia, Santorini
Oia sits at the northwest tip of Santorini – about a 20-minute drive from Fira and 25 minutes from the airport. The town is known for its fantastic sunset views, great restaurants, and high-end shopping. There's not much nightlife in Oia but there is one bar, Marykay's, and several restaurants with cocktail bars attached for evening drinks.
Where to Stay in Oia
Most luxury hotels in Oia look south into the caldera and have great views of the volcano and Santorini cliffs. But these hotels do not have sunset views. Only the hotels on the western end of the town can see the sun set into the water. These hotels have partial caldera views.
The Best Hotels in Oia, Santorini

Hotel phone: +30 22860 71401
5-star luxury boutique hotel with 3 infinity pools, fantastic service, surreal architecture. All suites have amazing caldera viewa and own plunge pools (honeymoon suite has a jacuzzi, too). This is one of the best hotels in Greece. Great restaurants are within a 5 minute walk of the hotel.
• Hotel website • Check Prices on Booking.com

Hotel phone: +30 22860 71453
An intimate luxury hotel with few peers on the island. The view is absolutely stunning – perhaps the best hotel view on Santorini. Nice pool and deck with views of the caldera. The Canaves Oia Hotel is around the corner, slightly smaller, and quieter – but still wonderful.
• Hotel website • Check Prices on Booking.com

Hotel Phone: +30 22860 71308
Serene, private residence vibe, unique hotel (no tvs/dvds) with 21 tastefully decorated houses in 300-year old restored caves with alcoves & verandas. Deluxe suites have terraces with outdoor jacuzzis/infinity pools and the top end 'Perivolas' suite has a steam bath, huge indoor hot tub and a heated cave pool that stretches out to the terrace. Hotel has a splendid infinity pool and a restaurant in a converted wine cellar.
• Hotel website • Check Prices on Booking.com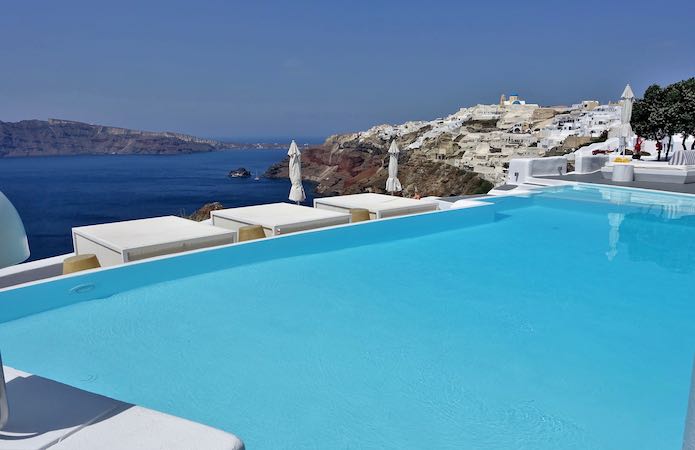 Hotel phone: +30 22860 71214
Posh boutique hotel with 2 pools (1 indoor, heated cave pool, and 1 outdoor, caldera-view infinity pool), a holistic spa, daily sunset wine tastings, and a modern Greek-Mediterranean restaurant. Luxe bright suites all include private terraces with caldera views. Most suites include an indoor jacuzzi; top tier suites boast outdoor jacuzzis or plunge pools. Great location on the walking path at the east end of Oia, within 5 minutes' walk of restaurants and a 15-minute walk to central Oia.
• Hotel website • Check Prices on Booking.com

Hotel Phone: +30 22860 27392
5-star, family-friendly hotel with a pool, spa, and exceptional dining (don't miss their signature restaurant Opson, serving an ancient Greek menu curated by a culinary archaeologist). Each suite and villa has its own private, heated pool and sunset sea views (not over the caldera) Daily free yoga, hiking, and training are major perks. Great location just a short walk from the caldera, restaurants, and shops.
• Hotel website • Check Prices on Booking.com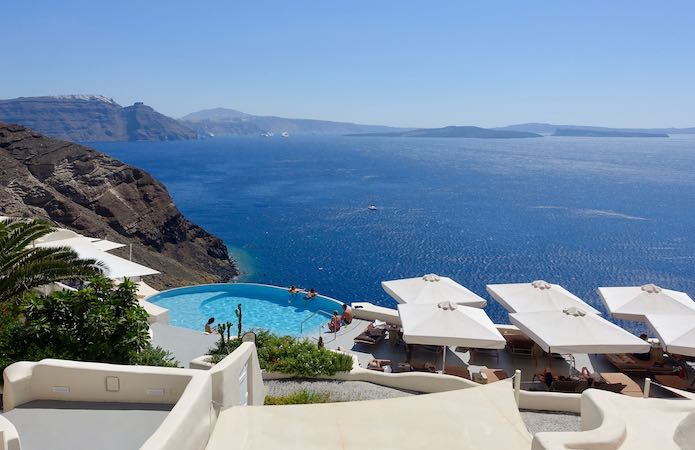 Hotel phone: +30 22860 71114
Magnificent, luxury hotel with 2 sparkling pools located near the base of the Oia caldera, allowing unobstructed sea views and granting more privacy than most nearby hotels. Mystique offers a variety of suites and villas, most with private jacuzzis, pools, or both. Hotel guests are served by 3 delicious restaurants: ASEA Japanese Restaurant, Charisma Mediterranean Restaurant, and the Captain's Lounge for breakfast and casual fare. The holistic spa, caldera-view pools, and superior service complete the experience here.
• Hotel website • Check Prices on Booking.com

Hotel phone: +30 22860 27310
One of only a handful of hotels in Oia with views over the caldera and of the sunset, Charisma also boasts cave-style design, an infinity pool, and a nightly champagne sunset event. Each romantic suite offers a private balcony, and all have either an outdoor jacuzzi, infinity pool, or cave pool. Great location near the old windmills, dining, and shops of Oia village.
• Hotel website • Check Prices on Booking.com
Map of Oia Hotels

Hotels on Map: Canaves Oia Epitome • Marizan Caves • Charisma Suites • Maregio Suites • Esperas • Fanari Villas • Art Maisons Oia Castle • Oia Mansion • Zoe Aegeas Traditional Houses • Santo Maris Oia • Aspaki by Art Maisons • Aris Caves • Andronis Boutique Hotel • Canaves Oia Sunday Suites • Alta Mare • Andronis Luxury Suites • Santorini Secret • Filotera Suites • Katikies Hotel • Canaves Oia Suites • Canaves Oia Hotel • White Pearl Villas • Ambition Suites • Strogili • Mystique • Anemomilos Hotel • Nikos Villas • Kirini Santorini • Gabbiano Apartments • Perivolas Hotel • Ikies Traditional Houses
More Great Oia Hotels

Hotel phone: +30 22860 72246
Modern villa collection featuring enormous 1 to 4-bedroom villas, full kitchens (big size fridges), private pools, and landscaped gardens. The Houses feature contemporary, Cycladic architecture, while the cave houses feature traditional, Santorinian design. Cavehouse VII, a 1-bedroom villa, has a fabulous cave-style pool and an indoor olive tree growing under a skylight. Located near (but not on) the caldera in Finikia, featuring panoramic sunset views and just a 15-minute walk to the pedestrian zone in Oia.
• Hotel website • Check Prices on Booking.com

Hotel phone: +30 22860 72041
Romantic, adults-only chic suites with jacuzzis on balconies. Top of the line 'Retreat' suites have big outdoor patios with hot tubs. Also possible to make use of facilities at hotel's sister properties (transfer arranged).
• Hotel website • Check Prices on Booking.com

Hotel phone: +30 22860 72220
Tiny, 4-suite, luxury hotel with cave-style architecture and stunning caldera views. Each suite includes an outdoor jacuzzi. The Emotion Suites feature round beds, while the Sensation and Temptation Suites have more private terraces. Room rates include an a la carte breakfast served to each suite's terrace and complimentary arrival and departure transfers. Located at the eastern edge of Oia, less than a 5-minute walk from restaurants and less than a 10-minute walk to the heart of the village for shopping, attractions, and the bus station.
• Hotel website • Check Prices on Booking.com

Hotel phone: +30 22860 72182
Adults-only, boutique hotel with 2 pools (1 heated, 1 cool), the fine-dining Lauda (the oldest restaurant in Oia), and caldera views. Each spacious suite and the 2-bedroom villa includes a private terrace with a jacuzzi, open-air plunge pool, or cave pool. Located in central Oia, near some of the island's best restaurants, shops, and attractions.
• Hotel website • Check Prices on Booking.com

Hotel phone: +30 22860 72041
Ultra-luxury boutique hotel with a heated infinity pool, romantic Lycabettus Restaurant (Modern Greek cuisine, jawdropping views, reservations recommended), and a full-service spa. Elegant suites and villas have outdoor/indoor jacuzzis, cave plunge pools, or heated infinity pools. The top end 'White House' sports an infinity pool, outdoor hot tub, and its own waterfall and garden (with dining and butler service options). Great location on the pedestrian path of Oia.
• Hotel website • Check Prices on Booking.com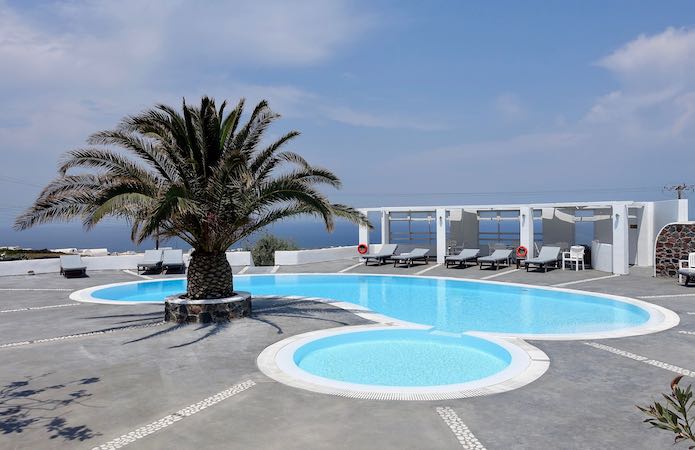 Hotel phone: +30 22860 71410
Pleasant, affordable 15 room and studio property and 2 private, upscale villas. Good hotel for families. Kitchens with ovens, outdoor heated jacuzzis and spacious terraces. Nice restaurant that serves good food and a wonderful courtyard pool.
• Hotel website • Check Prices on Booking.com
Hotel phone: +30 22860 71893
Cozy, simple, cave-house style units (up to 5 people) with kitchenettes, sofa beds and terraces with beautiful views.
• Hotel website • Check Prices on Booking.com

Hotel phone: +30 22860 71511
Boutique, luxury cave hotel with 7 spacious, self-catered suites and magnificent caldera views. All suites include a fully equipped kitchenette, 1 offers a cave jacuzzi, and 3 boast outdoor jacuzzis. Most suites sleep up to 4, while the largest sleeps 7. Ideal location just off the main pedestrian path in Oia, steps from the village's best dining, shopping, and attractions.
• Hotel website • Check Prices on Booking.com

Hotel phone: +30 22860 71831
Art-centric, luxury hotel with 15 caldera-view suites, a small pool, and an organic spa. Honeymoon and Exclusive Suites boast private, outdoor jacuzzis, while Cave Pool Suites feature indoor or outdoor heated cave pools. The hotel is served by a delicious Mediterranean restaurant, and an a la carte breakfast is always included. Guests of Aspaki have access to the sunset view terrace at their sister property Oia Castle Luxury Suites. Central yet serene location on the Oia caldera.
• Hotel website • Check Prices on Booking.com
Hotel phone: +30 22860 71831
Set in former wine caves, this property has fresh-looking suites and villas with kitchenettes, mini-bars, bathtubs and terraces with deck chairs. Outdoor jacuzzis are found in the top end suites and villas. Amenities include a cliffside pool, a casual cocktail and snack bar (open 24 hours), twice daily maid service, and a delicious breakfast served to each room's terrace daily. Conveniently located at the beginning of the pedestrian path in Oia.
• Hotel website • Check Prices on Booking.com

Hotel phone: +30 22860 72499
Boutique, all-suite, luxury hotel with an infinity pool, small spa and gym, and two gourmet Greek-Mediterranean restaurants. One-bedroom suites and two-bedroom villas all include private balconies or patios with heated plunge pools or swimming pools and sunset, sea views (not of the caldera). A signature champagne breakfast is included in the room rate. Located about 500 meters from central Oia, Canaves Epitome offers more space and privacy than nearby caldera hotels, while still offering easy walking access to the village's best sights, shops, and dining.
• Hotel website • Check Prices on Booking.com

Hotel phone: +30 22860 71453
The first-built of the Canaves properties, Canaves Oia Hotel offers 18 exclusive suites with private balconies, most with outdoor plunge pools. Luxury room perks include pillow menus, welcome wine, and Hermes amenities. The hotel features a wonderful infinity pool, a casual Greek-Mediterranean restaurant, and a local wine-tasting experience. Guests have access to the spa at their sister property Canaves Oia Suites. Located just outside the pedestrian-only zone of Oia, walking distance to everything.
• Hotel website • Check Prices on Booking.com

Hotel phone: +30 22860 71453
Small, luxury hotel with an infinity pool and 8 suites with panoramic caldera views. Suites are generous, the largest with 2 bedrooms and 2 bathrooms. Honeymoon Suites feature outdoor jacuzzis, while Master Suites boast private infinity pools. Dining is exceptional at Veranda, their caviar and oyster restaurant. Popular for weddings, the entire hotel can be rented out for events as a 10-bedroom villa. Great location in the heart of Oia.
• Hotel website • Check Prices on Booking.com
Hotel phone: +30 22860 71600
Rooms and suites with mini bars, private balconies and outdoor jacuzzis. Studios and cave suites add small, fully equipped kitchenettes. The cave suite also has a bathtub with a sauna. Hotel has free private parking.
• Hotel website • Check Prices on Booking.com

Hotel phone: +30 22860 71434
Luxury villa collection in the traditional village Finikia, just a 5-minute walk to the caldera and a 15-minute walk to the heart of Oia. The villas are spread out over 2 complexes connected by a winding path through an unspoiled Cycladic village. Villas offer 1 or 2 bedrooms, plenty of space (45 to 80 sqm), private terraces, and either an indoor or outdoor jacuzzi or plunge pool. All include sunset sea views over the Aegean (not the caldera). Amenities include a large infinity pool, daily breakfast delivery, and a welcome bottle of wine.
• Hotel website • Check Prices on Booking.com
Hotel phone: +30 22860 72276
Quaint, great value suites (only 3) with kitchenettes and private terraces with caldera views. The Executive Cave Suite is the largest and features an indoor jacuzzi, while the Classic and Junior Cave Suites boast outdoor heated jacuzzis. Fantastic location at the quiet, east end of Oia just a 5-minute walk to the pedestrian zone, restaurants, and shopping. Their sister property, Enalion White Suites, offers 2 more suites with kitchenettes and outdor jacuzzis in central Oia.
• Hotel website • Check Prices on Booking.com

Hotel phone: +30 22860 71501
Minimalistic, 20 unit (studios, houses & suites) hotel with a carved-out rock pool. Bright, unassuming, smallish with private terraces, minibars & coffee/tea facilities. Upgraded suites have outdoor jacuzzis. Units 121, 114 offer the most privacy & 115 has the best sunset views.
• Hotel website • Check Prices on Booking.com

Hotel phone: +30 22860 71008
Beautifully decorated cave-style suites with sofa beds, wooden furniture, and private/semi-private terraces; some suites add kitchenettes. Top-end suites have indoor or outdoor whirlpools and sundecks. Amenities include a small spa, caldera-view pool (half open-air and half cave-style), a pool bar and restaurant, and complimentary breakfast.
• Hotel website • Check Prices on Booking.com

Hotel phone: +30 22860 71110
Eight ultra-chic cave suites with stunning caldera views from each private terrace, all with outdoor, heated jacuzzis and 1 adding a private pool. Amenities include a spectacular infinity pool overlooking the caldera, an all-day Greek restaurant and pool bar, in-room massage, and daily breakfast delivery. Superb location in the heart of Oia, surrounded by delicious restaurants and local boutiques.
• Hotel website • Check Prices on Booking.com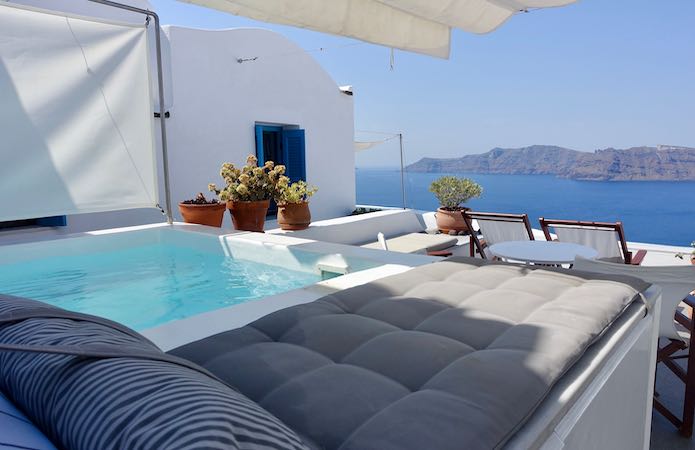 Hotel phone: +30 22860 53203
Family-friendly, boutique hotel with only 3 apartments, all with private jacuzzis with incredible 180° views of the Oia caldera.  Charming apartments offer fully equipped kitchenettes, welcome fruits, and are set in a hundreds-of-years-old cave: one, a former house; the second, a wine cellar; and the last, a former donkey stable. Guests have the option of adding breakfast to their stays or booking the apartments only. Service is attentive and personal. The location is fantastic overlooking the caldera, near several restaurants, and an easy walk to the center of Oia.
• Hotel website • Check Prices on Booking.com
Hotel phone: +30 22860 71927
One, traditional, restored, character-filled, historic residence (villa) for up to 12 people, spread out across 3 sections, with cave-style rooms, multiple bedrooms, kitchens, bathtubs, an outdoor private pool and jacuzzi.
• Hotel website • Check Prices on Booking.com

Hotel phone: +30 22860 71311
Luxury boutique hotel with an infinity pool, elegant cave-style suites, and spectacular caldera views. Suites are all spacious, most with private, outdoor jacuzzis, some with lofts, some with 2 bedrooms. A wonderful Greek breakfast is served to each room daily, and an all-day room service menu features light fare and cocktails. Quiet location at the east end of Oia, away from the crowds yet only a 15-minute walk along the footpath to the best dining, shopping, and sunset vistas.
• Hotel website • Check Prices on Booking.com
Hotel phone: +30 22860 71049
Boutique hotel with a cliffside infinity pool, bar service, and stunning caldera views from each suite and throughout the property. Suites feature traditional, cave-style architecture with minimalistic style; about half feature private, outdoor jacuzzis with panoramic views. This family-run hotel offers warm hospitality and attentive care. Perfect location at the beginning of Oia's footpath, near amazing restaurants and shopping.
• Hotel website • Check Prices on Booking.com
Hotel phone: +30 22860 71510
Snazzy, cozy suites and villas with Dolce Gusto coffee machines, kitchenettes, massage showers, Bluetooth speakers, mini bars and patios with private plunge pools/hot tubs. Free parking available at a nearby location.
• Hotel website • Check Prices on Booking.com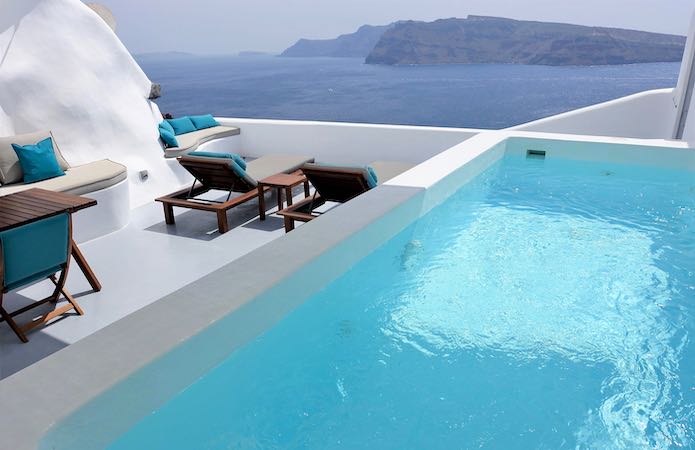 Hotel phone: +30 22860 72218
Low-key, luxury hotel with just 9 suites, all with generous terraces with private, heated plunge pools and direct sunset views over the Oia caldera. Spacious suites feature contemporary, Cycladic, minimalist style. Intimacy is paramount here, so all meals are served directly to each terrace, including a rich Greek breakfast, great cocktails, Mediterranean light fare, and local wines. Perfectly located near the windmills, just a short walk to Ammoudi Bay and the heart of Oia.
• Hotel website • Check Prices on Booking.com
Hotel phone: +30 22860 72061
Family-run, cave-style spacious rooms, with fridges, sofa beds (some) & balconies. No 24-hour reception and no on-site pool (there's a public pool next door). Upgraded cave houses have big balconies and outdoor jacuzzis.
• Hotel website • Check Prices on Booking.com

Hotel phone: +30 22860 71660
Adults-only, boutique hotel in a quiet neighborhood of Oia with a refreshing pool, modern Greek comfort food restaurant, and surrounded by vineyards. All units offer sea or sunset sea views (not the caldera). Suites feature private, outdoor jacuzzis, while the 2 rooms offer direct access to the pool. An excellent breakfast buffet is included in the room rate, featuring local products and great coffee. Great location just a 10-minute walk to Oia.
• Hotel website • Check Prices on Booking.com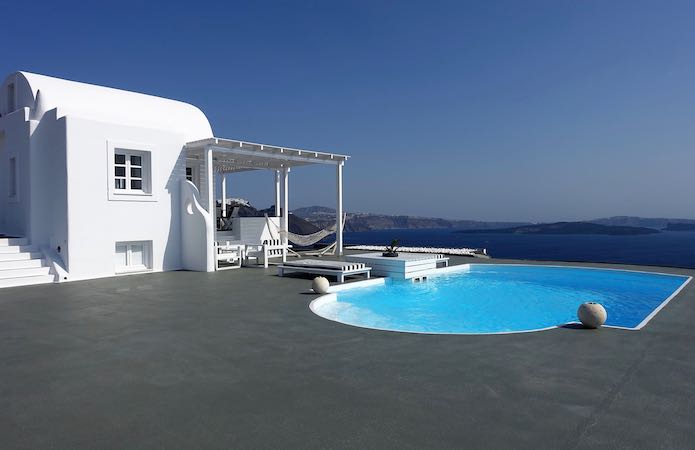 Hotel phone: +30 22860 72363
3 private luxury villas on the caldera side of Finikia, a quiet neighborhood just a short walk to the livelier Oia village. 1, 2, and 3-bedroom villas all feature private, caldera-view infinity pools, al fresco dining tables, and parking. Perks include a rich, a la carte breakfast served daily to each villa and complimentary rides into Oia, though it's only a 13-minute walk away.
• Hotel website • Check Prices on Booking.com
Hotel phone: +30 22860 71604
Spacious, reasonably priced property with studios, rooms and apartments with kitchenettes, loft bedrooms, and sea view terraces, some with private, outdoor jacuzzis. Has a pool and pool bar.
• Hotel website • Check Prices on Booking.com
Hotel phone: +30 22860 71100
Immaculate, good value, 5 traditional cave houses and 1 modern villa property with small rooms, Espresso machines, fridges and outdoor hot tubs. Near the top of the cliff, so not as many steps to climb. Lacks a pool.
• Hotel website • Check Prices on Booking.com
Hotel phone: +30 22860 71192
Traditional cave house complex with fully equipped kitchens, small bedrooms, outdoor hydromassage tubs, cave jacuzzis and verandas. Serves daily breakfast at each villa's private verandh. Accepts kids above 16 only.
• Hotel website • Check Prices on Booking.com

Hotel phone: +30 22860 40063
Spacious, luxury resort with 1 indoor and 5 outdoor pools, a lavish spa, a Cretan-Greek restaurant, and 2 bars. All suites and villas include kitchenettes and private, outdoor jacuzzis. Most suites feature sea views or sunset sea views, though views face directly west toward the Aegean, rather than the caldera. Wonderful location, just a 5-minute walk to the heart of Oia and just a 6-minute walk to the caldera's edge.
• Hotel website • Check Prices on Booking.com

Hotel phone: +30 22860 27337
Adults-only hotel with trendy suites and one villa, all with spacious terraces, caldera views, and outdoor jacuzzis or private pools. The 'Honeymoon' Suite has a round bed, fitness area, and hammam; the villa adds a fully equipped kitchenette. Amenities include a caldera-view infinity pool, small spa, and an award-restaurant. Their family-friendly sister property Santorini Secret Premium, is across the path and offers access to the spa and restaurant at the main hotel, along with larger suites, all with jacuzzis, and the same in-room amenities. Wonderfully located on the marble pedestrian path in Oia, surrounded by dining, shopping, and near the bus station.
• Hotel website • Check Prices on Booking.com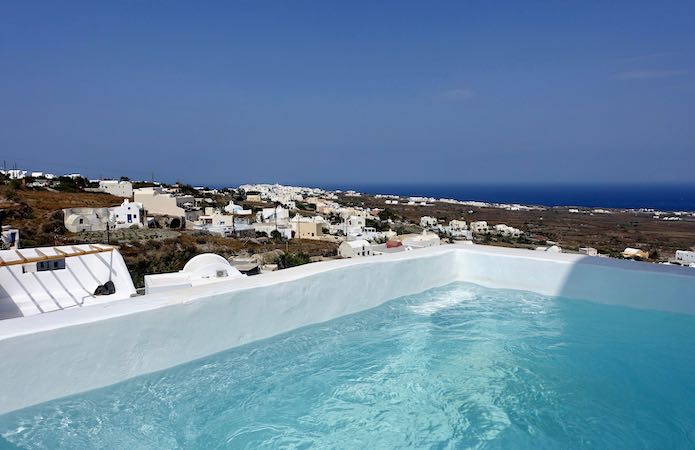 Hotel phone: +30 22860 71131
Charming, luxury hotel with 10 stylish rooms and suites, a refreshing pool, and an all-day pool bar located in the traditional village Finikia, just a 15-minute walk to Oia. All rooms and suites feature private, outdoor plunge pools and sunset sea views over the Aegean (not the caldera). A complimentary, a la carte breakfast is served to each room daily.
• Hotel website • Check Prices on Booking.com
Hotel phone: +30 22860 71125
Spotless, traditional-style studios and apartments with kitchens, coffee machines, laptops (on request), verandas and a hearty complimentary breakfast. Has a pool with a sun terrace.
• Hotel website • Check Prices on Booking.com
Hotel phone: +30 22860 71480
Elegant, small hotel with a handful of rooms and suites, all with marvelous caldera views and private terraces with outdoor jacuzzis. The hotel boasts an infinity pool with an all-day pool bar serving light fare. Breakfast is included and served to each room daily. Guests of Villa Katikies have access to all facilities of their sister properties, including the pools and dining at Katikies Hotel next door and the decadent spa at Kirini just a short walk away.
• Hotel website • Check Prices on Booking.com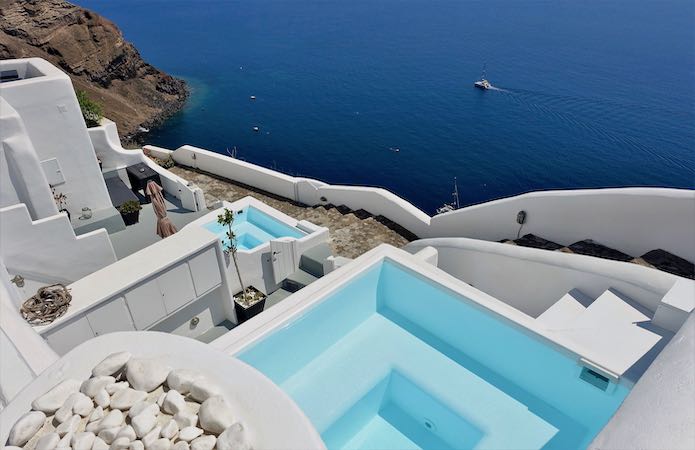 Hotel phone: +30 22860 71334
A fashionable collection of private villas on scattered on the side of the Oia caldera with sweeping views. Each luxury villa includes a kitchenette and a private terrace with a jacuzzi or pool; some villas add a second, indoor plunge pool. Breakfast is included in the room rate and served at their sister restaurant Passaggio, a local landmark at the entrance to the village.
• Hotel website • Check Prices on Booking.com

Hotel phone: +30 22860 71466
Great value, roomy, apartments (for up to 6 people, some split-level), studios and private villas with fully equipped kitchens, loaner laptops, terraces. Stellar caldera views and a great location in the bustling heart of Oia.
• Hotel website • Check Prices on Booking.com
Read More