Greece › Santorini › Best Restaurants
by Santorini Dave • Updated: October 12, 2021
See Also
Santorini Food & Wine

4-Hour Walking Food Tour
– Excellent tour with tastings (much of it along the caldera) from Firostefani to Fira. Highly Recommended!
Santorini Sunset Wine Tour
– Highly recommended! Santorini wines are wonderful and this gives a good overview of 3 of the best wineries on the island. Hotel pickup and drop off makes it easy. (The tour ends at the Venetsanos Winery which has incredible caldera and sunset views.)
Santorini Cooking Course
– A super fun introduction to Greek food. Lots of hands-on cooking. Great for groups, couples, or singles.
Reservations are required at most of the restaurants listed below. Reserving 3 to 5 days in advance will be fine most of the time – but if it's a really special occasion then book a table weeks (maybe even months) in advance just to be sure.
Tipping in Santorini: Tipping is customary in Greece, but it is not percentage-based as it is in the U.S. It is customary to tip about €2 to €5 for a meal, maybe more in an expensive restaurant.
My very favorite restaurants on Santorini: Metaxi Mas • Cava Alta • Argo • Ouzeri • Athenian House • Avocado • Candouni • Roka
Best Oia Restaurants: Roka • Karma • Candouni • Elinikon • Ammoudi Fish Tavern
Best Fira Restaurants: Argo • Ouzeri • Naoussa • Cacio E Pepe • Selene
Best Imerovigli Restaurants: Athenian House • Avocado • Anogi
Best Santorini Restaurants with Caldera View: Athenian House • Argo • Naoussa • La Maison • Ambrosia. (In general the best restaurants don't have caldera views but there are exceptions.)
Best Restaurants with Sunset View: Athenian House • Naoussa • Elinikon.
If you visit any of these restaurants please mention that you heard about them from Santorini Dave. Thanks!
Hotel Restaurants with Great Food & Views
More hotel restaurants with fantastic views:
• Grace in Imerovigli (Santoro)
• Andronis Luxury Suites in Oia (Lycabettus)
• Katikies in Oia (Mikrasia)
• Cavo Tagoo near Imerovigli (Vezené)
• Charisma in Imerovigli (sunset champagne event at the bar)
• Andronis Arcadia in Oia (Opson, sunset views but not caldera)
• Andronis Boutique Hotel in Oia (Lauda)
• Astra Suites in Imerovigli (Five Senses)
• Carpe Diem in Pyrgos (Exaltis, wonderful panoramic view)
• Athina Luxury Suites in Fira (Esperisma, stunning sunset and volcano views)
The 26 Best Restaurants in Santorini

This is the best restaurant on Santorini. If you ask at your hotel, "where is the best place to eat in Santorini?", they'll probably send you here. Reservations recommended. The views are of Kamari beach and the airport. A perfect evening (away from the caldera) would include a meal at Metaxi Mas and then a late-night movie at the outdoor cinema in Kamari (about a 5 minute drive away). • Map

Wow, this place is great. Hidden in the lanes below the castle in Pyrgos this super-friendly restaurant has some of my favorite dishes in Santorini. Reservations usually not required for lunch but best to reserve for dinner. • Map

The best restaurant in Fira. There are 2 restaurants directly across the path that have better caldera views but Argo has better food – modern Greek with a trendy vibe. Reservations recommended. • Map

Good food in a relaxed setting. The big bright sign makes it look very touristy (almost questionable) but the food is great and moderately priced. Reservations recommended for dinner but not usually necessary for lunch. • Map

Fine dining located inside of a converted monastery within Fira's only 5 star hotel, Katikies Garden. In its 35th year in operation, now newly led by the Michelin starred chef Ettore Botrini. • Map


The best caldera and sunset views of any restaurant in Santorini. Amazing food too. Book months in advance. • Map

Along with the Athenian House, this is my favorite restaurant in Imerovigli. Great food and people, but no view. Reservations usually not required for lunch but a good idea for dinner. • Map

Warm, friendly, and romantic vibe with traditional Greek food and live music most nights. Reservations recommended. • Map

My favorite restaurant in Oia. Charming, quiet location. Wonderful food. No caldera view. Reservations recommended. • Map
One of my favorite things to eat on Santorini is a gyro from Lucky's. Cheap and delicious. No reservations. You order at the cash register then place your receipt on the bar near the cook. Don't miss this! (Perfect for lunch.) Pitogyros is also good and the best gyro place in Oia. • Lucky's Map, Pitogyros Map
Yalos – Exo Gialos Beach

Fresh seafood and Santorinian flavors at an idyllic beach location about a 10 minute drive directly east of Fira. Trendy but friendly. • Map

The best Italian restaurant in Santorini. Good Italian wines. Fun and friendly. • Map

Wonderful traditional food and great views at the north end of pedestrian Fira. Reservations recommended. • Map
Anogi – Imerovigli

Wonderful modern Greek food with a trendy vibe. If you can't get a table, Posidonia Taverna is steps away – not as fancy but almost as good. • Map

The best restaurant in this area of southern Imerovigli (not that central Imerovigli is very far away). Modern Greek with a French flare. Desserts are amazing too. • Map

The best restaurant in Oia that has sunset views. Delicious food. Specializes in meze, small dishes ideal for sharing. Reservations recommended. • Map

Charming, friendly restaurant with some of the best dishes in Oia. Reservations recommended. • Map

The most romantic restaurant in Oia, and maybe all of Santorini. Make reservations far in advance. • Map

OK, maybe this place is more romantic, but there's only one table and one seating per night (8 to 11pm). Reserve at least 27 years in advance at [email protected]. • Map

A small cafe with good food (the Oia Spaghetti is delicious) and a patio with great views. The baklava and ice cream is the best on Santorini. Most of the Oia restaurants I mention here are only open for dinner making Lotza a good option for lunch. But don't order the souvlaki (always get souvlaki or gyro from a small gyro/souvlaki shop, never at a sit down restaurant). Reservations usually not required. • Map

Ammoudi is the port below Oia and there are 4 restaurants here all with great fresh seafood. The Ammoudi Fish Tavern is the best of them but they're all good choices with wonderful seafront views. Walk down to the waterfront, and have the restaurant call you a taxi to avoid the climb back up. Reservations aren't needed for lunch but a good idea for dinner. • Map

The best restaurant in Firostefani. Charming atmosphere with tables spilling out onto the sidewalk when it gets busy. Reservations recommended. • Map
Remvi – Firostefani

There are several restaurants with great views in Firostefani. Remvi has the tastiest food. Reservations recommended if you want a table along the edge. • Map

Very good Italian food. Views look east, not into the caldera. Reservations usually not required. • Map

Wonderful traditional food in the charming village of Megalochori. Popular with locals. Open lunch and dinner. Reservations usually not required. • Map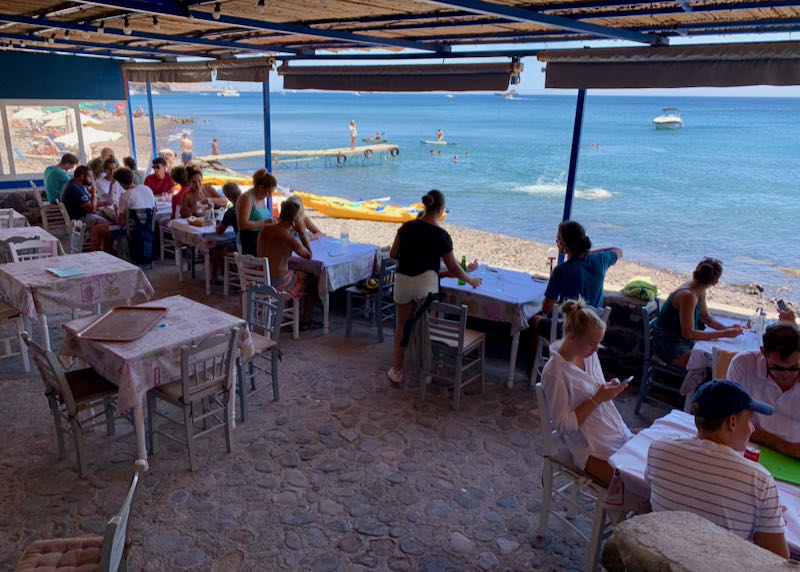 Small, family-run restaurant on Kambia beach in Akrotiri serving delicious traditional homestyle dishes. Open late morning to early evening. Closed on Mondays. • Map
Savvas Popeye features a casual atmosphere, great traditional food, water views, and a very friendly staff. Open for lunch and dinner through the week. • Map
Kantouni is arguably the best traditional restaurant on the main square in Pyrgos. Its open air seating, convenient location next to the bus stop, and excellent food make it very popular. • Map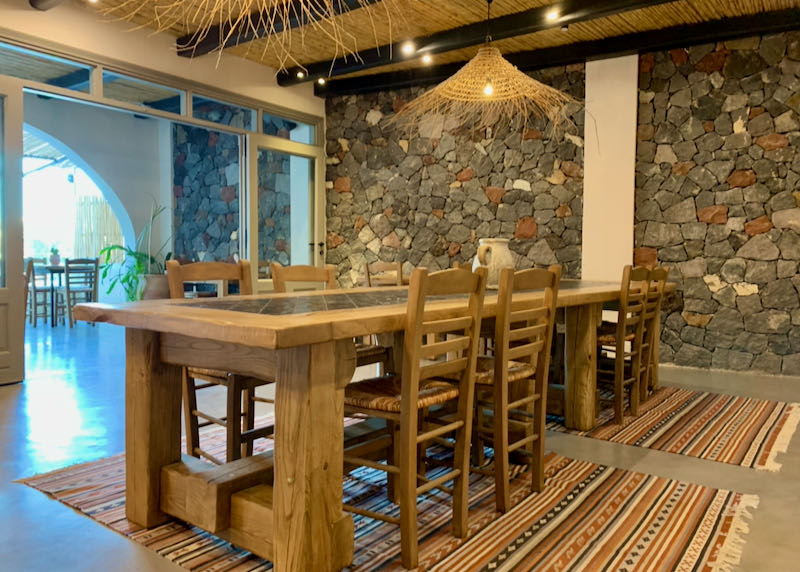 This boho-chic family-run restaurant serves delicious yet inexpensive food using ingredients grown in their own garden and restaurant. The decor, open layout, convenient location, and super-friendly staff make this a great place to wine and dine. • Map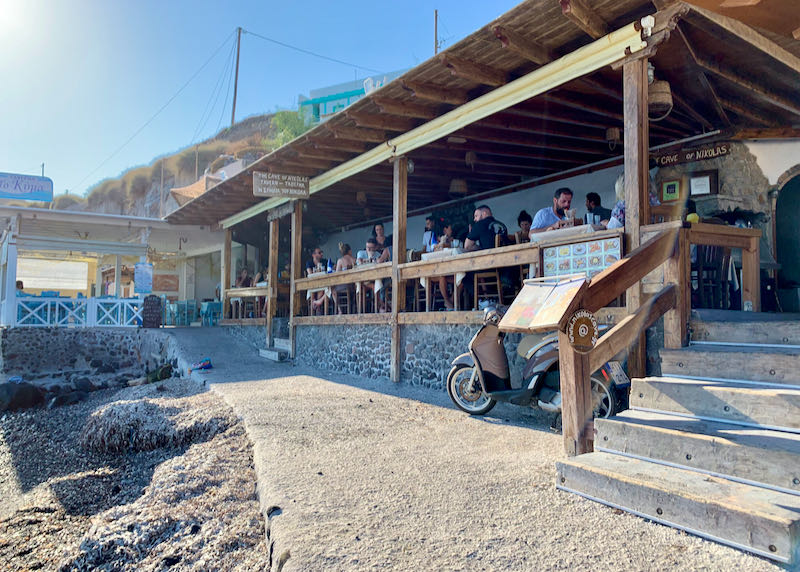 Fantastic family-run taverna serving homestyle Greek food on Akrotiri beach, and just minutes from Red beach. The restaurant uses fresh vegetables, dairy, and meat from its own farm and only fresh seafood caught in the morning in its delicious dishes. The affordable rates, large portions, open layout, and beautiful views of the water and sunset make this a great stop for lunch or dinner. • Map
Roza's – Vourvoulos
The family-run Roza's in Vourvoulos features a traditional Greek menu with homestyle cooking. Options range from meat, seafood, and vegetarian dishes, with a great selection of wine. The restaurant is located a couple of minutes from the bus stop on the main square. The food is delicious and the hosts are extremely friendly and hospitable.
This is the best seafood restaurant in Santorini – but I don't want it to be ruined by masses of tourists so I put it at the end. It goes by a few different names: Greeks drop the "a" and just say Kira Roula's. The sign says To Steki Tou Psara (Fisherman's House). It's right at the Vlychada port and you can often see the fish being unloaded from the fishing boats. This is an old school Greek taverna. Expect slow friendly service. Cash only. • Map
Pictures of Santorini Restaurants
My photos of all the top restaurants in Santorini from the Santorini Dave Instagram account.
Anogi in Imerovigli
Avocado in Imerovigli
La Maison in Imerovigli
Yalos in Exo Gialos
Taverna Geromanolis in Megalochori
Ammoudi Fish Tavern in Ammoudi Bay
The Cave of Nikolas in Akrotiri
Remvi in Firostefani
Da Vinci's in Firostefani
Aktaion in Firostefani
Cacio e Pepe in Fira
Naoussa in Fira
Ouzeri in Fira
Argo in Fira
Misteli in Akrotiri
Metaxi Mas in Exo Gonia
Kiria Roula's in Vlychada
Kantouni in Pyrgos
Cava Alta in Santorini
Savvas Popeye in Perivolos
Kambia Restaurant in Akrotiri
Read More