Greece › Santorini › Santorini Cruises
by Santorini Dave • Updated: September 22, 2021
See Also
Coronavirus Update: Many cruises to Santorini and the Greek islands have been canceled for 2022 though there are now some cruise lines taking reservations and bookings for May, June, July, August, September, and October. Flights and ferries to Santorini are almost back to normal levels and visitors should have no trouble island hopping around the most popular destinations.
Santorini Cruises Next Year: Hopefully there aren't any cruises to Santorini and this awful and corrupt industry will disappear from the Greek islands forever.
Please, don't do a cruise to Santorini. They're bad for the citizens, the environment, and the local economy, and they're a lousy way to see the island. On a cruise, you only get a few hours to see Santorini – and it's busy, hectic, and packed with tourists whenever a cruise ship is in port. All of the best things to do in Santorini are hard to enjoy on the limited time you get on the island if you visit on a cruise. The best Santorini boat tours are day trips you do while staying on the island – but you won't have time to do a volcano boat tour if visiting from a cruise ship.
If you really want to see what makes Santorini the most magical island in Greece, you'll need to stay overnight. The best Santorini hotels are some of the most awesome and incredible places to stay anywhere. Sleeping in a cave and waking up with views of the caldera out your window is a very special experience. Five to seven days is what I recommend for most visitors to Santorini, but even a one-night stay is better than visiting on a cruise.
Santorini is a year-round destination. If you're into wine, great food, and sightseeing the best time to visit Santorini is from April to early June and late September to early November. In recent years Santorini has been limiting cruise ship access to the island. The restrictions should increase in 2022 and 2023.
What are the best cruises to Santorini? If you absolutely must do a Santorini cruise then book a Greek sailing tour on a small yacht (listed below) – the best type of cruise in the Greek islands. If you are already booked on a cruise, these are the best Santorini shore excursions.
Recommended travel agents for Greece: Fantasy Travel is good for planning trips to Greece and the Greek islands. You can read more about travel agencies for Santorini vacations here.
But you don't need a cruise, tour, or travel agent to visit Santorini. Use our Santorini Travel Guide to plan your own visit. It's more fun, more authentic, and more memorable.
Cruises to Santorini and the Greek Islands
7 reasons not to do a Santorini cruise:
1. You get a very limited amount of time on the island (just 3 to 8 hours when you account for getting up to the top of the caldera).

2. You only see the island when it's densely crowded with other cruise ship passengers (your shipmates).

3. You won't be around to see the sunset, when Santorini is at it's most beautiful.

4. You won't have time to do any of the best Santorini tours: a catamaran tour of the caldera, a boat tour to the volcano, a winery tour, a photography tour, a fishing tour.

5. You'll only visit the most crowded and touristy locations on the island and miss out on Santorini's charming traditional villages like Pyrgos, Emporio, and Megalochori.

6. There is only one access point from the cruise ships to the island – the old port of Santorini. This tiny port gets absolutely overwhelmed with cruise ship passengers and makes for a terrible introduction to the island.

7. Cruises are floating Petri dishes of disease and illness. (From the Wall Street Journal: "Early in March, the world's cruise-ship operators had ample evidence to believe their fleet of luxury liners were incubators for the new coronavirus. Yet they continued to fill cruise ships with passengers, endangering those aboard and helping spread Covid-19 to the U.S. and around the globe.")
After the shore excursions have returned to the ship and the cruises have departed, Santorini returns to a calmer and more tranquil pace. If you can stay a few nights on the Santorini, you'll see a completely different side of the towns, restaurants, and attractions. It's just much more fun, more relaxing, and more beautiful on the island after the cruise ships have sailed away. And if you arrived on this page after watching the absolutely awful Santorini show by Rick Steves – just ignore everything that guy recommends about seeing the Greek islands. I bet any local would tell you the same.
What are the best sailing tours in the Greek islands and Santorini?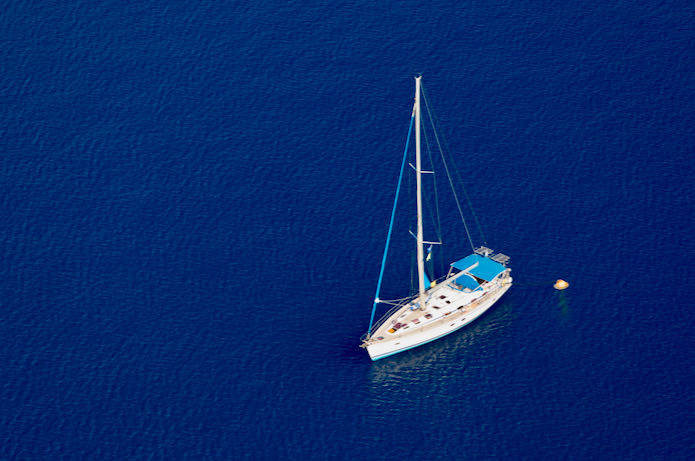 As I said above, visiting Santorini on a cruise is not ideal. You only get to spend a few hours on Santorini and those hours are when your entire ship is also touring the island – you don't get to see the magic of what makes Santorini so special. And you don't get to stay overnight and see the island in the morning when it can feel almost deserted – even in high season.
But sailing tours (small ship tours, yacht tours, or private sailing tours) are different. On the sailing trips I list below, you meander around the Greek islands and make stops in a number of different places that are wonderfully off the beaten path. You start or finish your trip in Santorini so you get to spend 1 or more nights on the island to see how it really is.
The Best Yacht Cruises for Santorini & the Greek Islands
All of these sailing tours are with G Adventures – a fantastic company that offers unique boat tours of the Greek islands on 15m charter yachts. A skipper/captain/tour-guide is on the boat the entire trip. There's a kitchen and 3 bathrooms, safety vests, and snorkeling equipment. Some meals onboard, some on land. These tours sell out quickly so book as early as possible. Dates vary by tour but most begin sailing in late April or early May and run until mid or late October.
(If you want a private yacht charter of the Greek islands then just book all 8 spots on the boat.)
Santorini Cruises – What to Know
Map of Santorini
Read More