SD › Vanuatu Hotels › Grand Hotel & Casino Review
Updated: January 7, 2021
See Also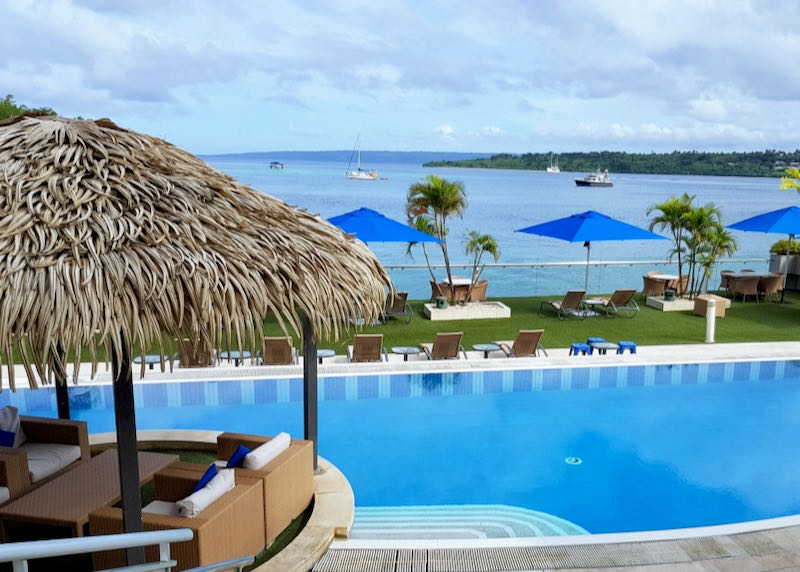 Grand Hotel and Casino – Central, high-rise, and business-oriented.
Grand in size and location, Vanuatu's tallest building dominates the harbor skyline. All facing the water and enticing resort on Iririki Island, the standard rooms are a little compact and seem stuck in the 1970s. Far better, the Panorama Suites on the higher floors feature extensive floor-to-ceiling windows, sizable balconies, and some modern art. The resort-style pool is first-rate and also offers outstanding harbor views. Popular among some guests just for the in-house casino, the only multi-star hotel in the capital has been around a while – and looks it – but is very convenient.
Grand Hotel and Casino – The Basics
Location: In the center of Port Vila, on the main island of Efate. Along Kumul (aka Lini) Highway, the main road through town. About 15 minutes from the airport.
Guests: Seems to cater mostly for business people.
Beach: There is no public beach in or around Port Vila. The nearest serviceable beaches are around the Breakas Beach Resort, about 5km along the peninsula from the town center.
Views: All rooms offer magnificent views of the harbor and island.
Wi-Fi: Available for free to all guests throughout the hotel.
Parking: In one word: terrible. The downtown location means almost no off-street parking.
How to Book: Booking.com will have the best rates.
Phone: (678) 28882
Email: info@grandvanuatu.com
Website: grandvanuatu.com
Grand Hotel and Casino – Amenities
Pool: The pool is a decent size – the sort expected at a resort, not a city hotel.
Spa: The Arom'essence Spa, alongside the pool, offers extensive treatments at reasonable prices. Serene and classy layout, with some rooms providing harbor views.
Fitness Center: None, perhaps surprisingly.
Private Pools/Jacuzzis: Not expected or provided at this city-style hotel.
Grand Hotel and Casino – Food and Drink
Restaurants & Bars: Crystals Restaurant – Relaxed setting for breakfast and all-day dining. Excellent service, daily specials, buffet nights, and superb views. Hard to ignore the stir-fries, steaks, or seafood • Cabana Pool Bar – Faces the harbor. For drinks, snacks, light lunches, and all-day tapas. Live music on weekends • Lobby Lounge Bar – For high-rollers from the casino. Snacks and pastries as well as coffee, cocktails, and cakes.
Breakfast: Some rates include a substantial continental buffet breakfast.
Room Service: Available 24 hours.
Grand Hotel and Casino – Rooms
Room Types: Harbour View Room • Deluxe Harbour View Room • Panorama Suite • Harbour Suite • Penthouse Suite
Smoking Rooms: All rooms are non-smoking, but lighting up is permitted on the balconies.
Best Room: On the top floor, the Penthouse Suites feature extensive full-length windows across several walls, so the views are arguably the best on the island. With 2 bedrooms, a bar counter, and elongated balcony, the décor is likably funky and brightly-colored.
For families: Some rooms have connecting doors, while others can squeeze in extra single beds.
Grand Hotel and Casino – What's Nearby?
Best Nearby Restaurants & Bars
There's a great choice within a short stroll along the main road through Port Vila:
Nearby Market or Grocery
There are plenty of shops along the main road through the town center.
Local Transport
Everything in Port Vila is within an easy walk, and every second vehicle seems to be a public minibus.
Grand Hotel and Casino – The Hotel
All Vanuatu Hotel Reviews
Read More